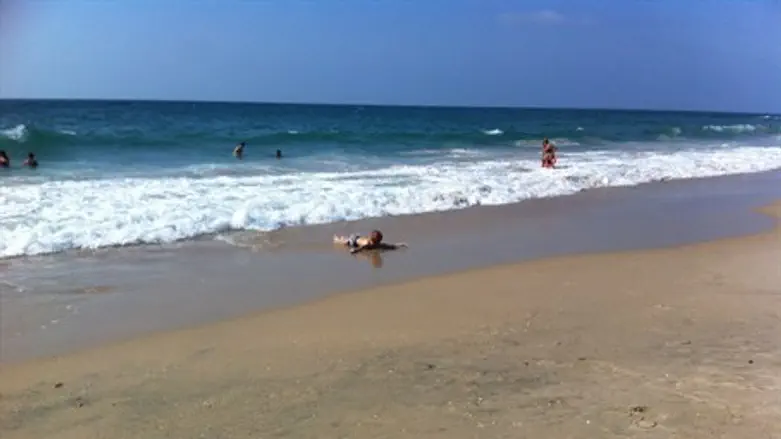 Beach (illustration)
Credit: Lily Aronin
Search and rescue units have been called out along New York's Atlantic Beach, looking for a paddle boarder last seen Sunday afternoon.
The 41-year old man, a Nassau county resident, was spotted by lifeguards on Atlantic Beach at 3:30 p.m., wearing a white t-shirt and blue shorts.
At 6:15 the US Coast Guard was notified by family members that the man was missing.
The Coast Guard has deployed a number of units to locate the man, including the Coast Guard Cutter Bonito, an HC-144 search and patrol aircraft, helicopters, patrol boats, and units of local police and fire departments.
Lawrence Mayor Martin Oliner, who is currently in Israel for his grandson's Bar Mitzva celebration, has been working round-the-clock to coordinate the massive search effort. Working out of his hotel room in Jerusalem, Oliner has been in touch with search and rescue teams since the man's disappearance on Sunday.
"[The missing man] is a family friend. He went out on the water at Atlantic Beach yesterday at around 3 p.m., and no one has seen him since. The Coast Guard is out and all available forces are looking for him."
"I've put all my efforts towards making sure that everything possible is being done. We're terribly concerned about his welfare. The Coast Guard is out conducting a 17-mile search to find him. We really hope that he will be found and rescued."
"Local fire and police departments are out aiding the search. The search includes helicopters and US Coast Guard units. I am trying to guide these search and rescue efforts as much as possible from here in Jerusalem."
The family of Haim Yosef Ben Ester Malka have asked the public to pray for his safe return home.