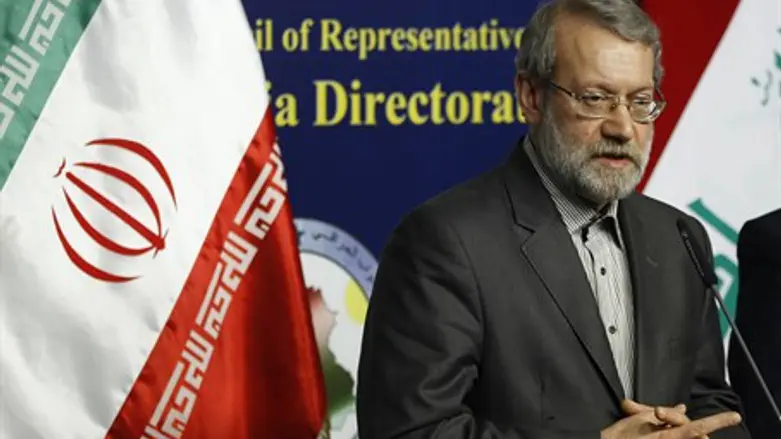 Iranian parliament speaker Ali Larijani
Reuters
The Speaker of Iran's Parliament, Ali Larijani, on Monday claimed that Iran has information proving that Saudi Arabia shared intelligence with Israel during the Second Lebanon War in 2006.
Speaking to the Lebanese Al-Mayadeen network which is associated with Hezbollah, and quoted by the Hebrew-language Walla! news website, Larijani also claimed that during Israel's counterterrorist Operation Cast Lead in Gaza in 2009, the Saudis looked for an "excuse" not to get involved by claiming that "it was an internal war".
"Tehran stood alongside Hamas and helped it militarily, rather than hiding it," he stressed.
Larijani also claimed that the Arab countries do not want to confront Israel, and are instead "satisfied with shout slogans in international conferences."
His comments come one week after he was re-elected as the temporary speaker of Iran's new parliament.
Larijani, who is considered a "moderate conservative", cooperated closely with the government of Iranian President Hassan Rouhani in approving Iran's nuclear deal with world powers last year.
But he has also in the past been at the center of the inciting statements with Israel as his focus. He once boasted of the fact that Iran provided Hamas with the technology it has used to rain down rockets on Israel from Gaza and also referred to Israel as a "cancer".
Before the implementation of the nuclear deal with the West several months ago, Larijani threatened the West that his country will build nuclear plants if the implementation of the deal is delayed.
Of course, Iranian officials have long accused Israel and Saudi Arabia of collaborating with one another, specifically claiming that Israel and the Saudis worked together to sabotage Iran's nuclear program.