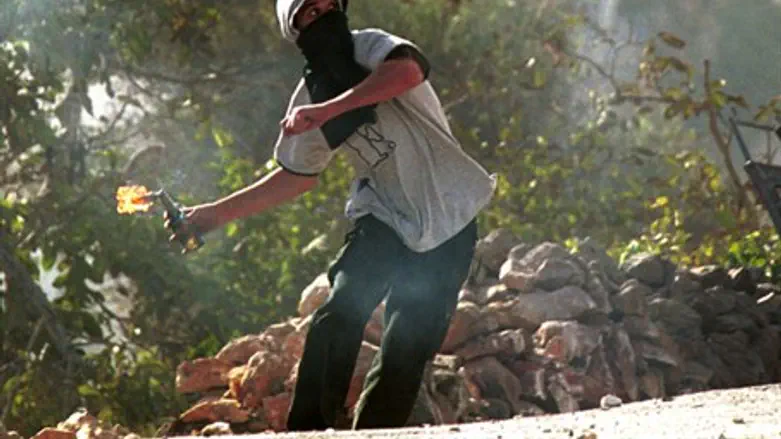 Firebomb attack (illustration)
Flash 90
Two Arab Israelis from the northern town of Sakhnin were indicted Sunday over plans to carry out arson attacks in revenge for the shooting of an Arab woman who brandished a knife at police in Afula last year.
Omar Abu Riyah and Mohammed Riyah, both in their twenties, are charged with conspiracy to commit a crime, manufacturing weapons, illegal possession and carrying of weapons, attempted arson and criminal damage.
According to the indictment, the two men took part in a protest in Sakhnin over the shooting last October of a mentally-ill Arab woman who drew a knife on police at a bus station in Afula, northern Israel. Asra'a Zidan was seriously injured in the shooting, which was initially thought to be an act of terror, having taken place at the height of the recent wave of stabbings, car ramming and other terrorist attacks against Israelis by Arab attackers.
Following the protest, the two suspects decided to carry out firebombing attacks on the nearby Jewish Kibbutz Eshbal in revenge for her shooting.
Towards midnight that night, the pair prepared a total of six molotov cocktails, and approached the kibbutz on foot with their faces masked.
The terrorists crawled into the kibbutz via the rear gate and hid until 1 a.m., when they found their target: a large communal tent used for events and hosting guests. They hurled the firebombs and fled the scene back to Sakhnin.
Some of the firebombs ignited on the roof of the tent, and penetrated it, causing damage both to the roof and to plastic chairs and rugs inside. The remaining firebombs caused damage to the surrounding area, but did not hit their target.