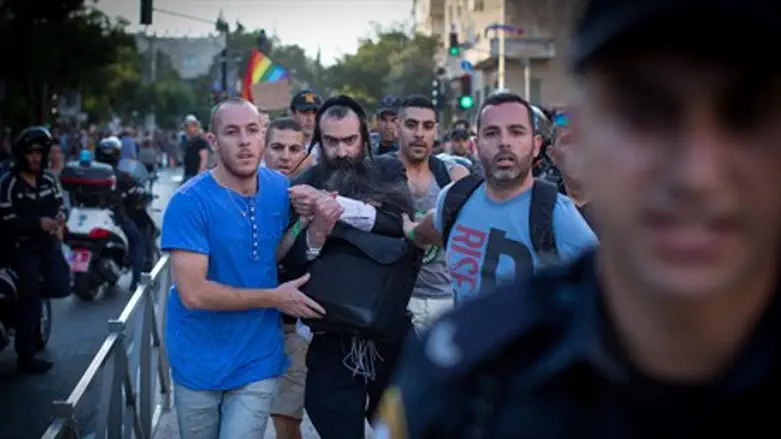 Police arrest gay parade attacker Yishai Shlissel
Flash 90
A Tel Aviv court on Wednesday struck down dozens of restraining orders Israeli police had issued against opponents of this Friday's planned gay pride parade.
The orders, which would have barred the individuals from approaching the route of the parade in Tel Aviv, were issued against dozens of haredi and national religious activists.
Police had called the individuals in question, requesting that they report to local police stations to sign the orders, agreeing to voluntary temporary restraining orders.
While some assented to the request, many refused, prompting the police to seek mandatory restraining orders from the court on Wednesday.
The presiding judge, Oded Meir, rejected the police request, saying that such restrictions on freedom of movement required concrete evidence of intent to violate the law. Police refused to divulge evidence they claimed had led them to single out the individuals cited in the restraining orders, leading Meir to consider the police request withdrawn.
The effort to restrict dozens of high-profile activists comes one year after Modiin Illit resident and ex-convict Yishai Schlissel attacked participants in a gay pride parade in Jerusalem. The stabbing attack left one dead and six injured.
Schlissel had only weeks prior to the attack been released from prison after serving 10 years for a prior stabbing attack at the 2005 Jerusalem gay pride parade.
In the wake of Schlissel's second attack, police faced heavy criticism for their failure to monitor Schlissel's movements during the 2015 parade, or to seek a restraining order barring him from approaching the parade route.