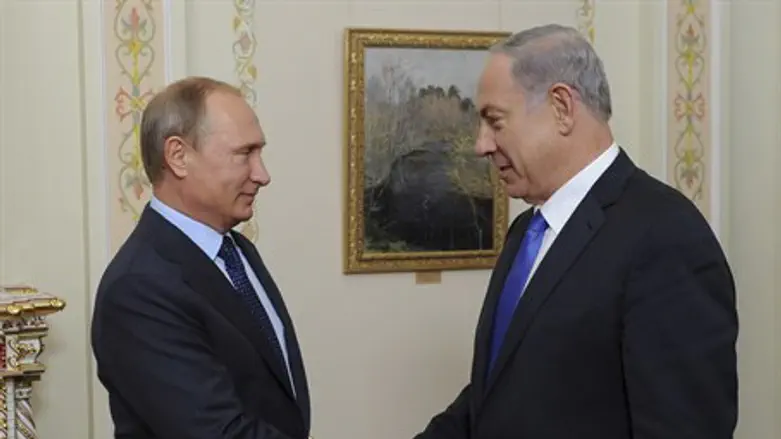 Putin and Netanyahu (archive)
Reuters
Israeli Prime Minister Binyamin Netanyahu will visit Russia to discuss a wide range of international issues, including Syria, with Russian President Vladimir Putin next week, Kremlin spokesman Dmitry Peskov said Wednesday, according to the Russian Sputnik news agency.
"This visit was planned long ago. The agenda is quite broad [and includes] advanced and partnership relations in various areas, the large potential in the economy, but also in the areas of security and the wide field of mutual cooperation in international policy," Peskov was quoted as having told journalists.
Asked if the two leaders would discuss the crisis in Syria, Peskov replied, "Undoubtedly."
Netanyahu and Putin last met at the end of April in Moscow, when Netanyahu clarified to Putin that keeping the Golan Heights in Israeli hands is a "red line."
Reports later said the meeting was called following an aerial incident between the two countries, which reportedly occurred when a Russian jet was scrambled to intercept an Israeli aircraft which was flying along the Syrian coast.
The Kremlin subsequently denied those reports, with Peskov saying that "in this case, Israeli press reports are far from reality."