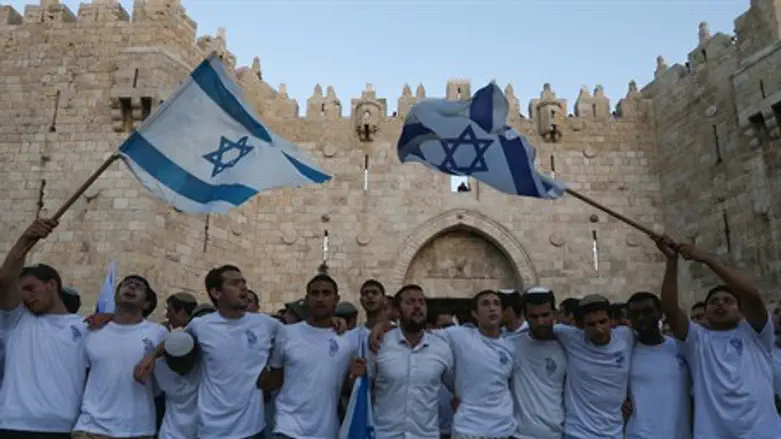 Celebrating Jerusalem Day in the Old City
Yonatan Sindel/Flash 90
The traditional Rikudegalim flag dance held in honor of Jerusalem Day (Sunday, June 5) will once again march through the Muslim Quarter of the Old City, the Israel Police decided Tuesday. 
Police made the decision this year despite the fact that June 5 also marks the opening day of Ramadan. 
To prevent friction between Jewish celebrants and local Muslims, the march will be held earlier than usual, Channel 10 reports, following meetings held between Jerusalem District Commander Yoram Halevi; Rabbi Haim Druckman, head of Bnei Akiva institutions; Agriculture Minister Uri Ariel (Jewish Home); Jerusalem Mayor Nir Barkat; Deputy Mayor Mrs. Hagit Moshe and the organizers of the event.
Dances will be held at 4:00 pm, and the traditional march through the Muslim Quarter will begin at 5:30 pm, toward the Western Wall. Usually, the march begins at 6:30 pm. 
The Rikudegalim is the main event of Jerusalem day, held in memory of founder Rav Yehuda Hazani. 
Tens of thousands of teenagers and young adults carry flags and march from the Central Bus Station to the Western Wall through the gates of the Old City. 
The decision marks a victory against petitions from leftist organizations from Tag Meir and Ir Amim to the Jerusalem Police, asking them to prevent the march from passing through the Muslim Quarter. 
Leftist have waged a fierce battle against Jerusalem Day last year as well, after several NGOs sent heavily edited footage to the High Court claiming that Jews participating in the flag dance were harassing Arabs.
After a diligent push to have the march cancelled, one leftist group went so far as to call to cancel Jerusalem Day in its entirety,  claiming the celebration of Israel's sovereignty over the capital and Judea-Samaria is a day "only for settlers and racists, who receive free license to harass Palestinian residents."