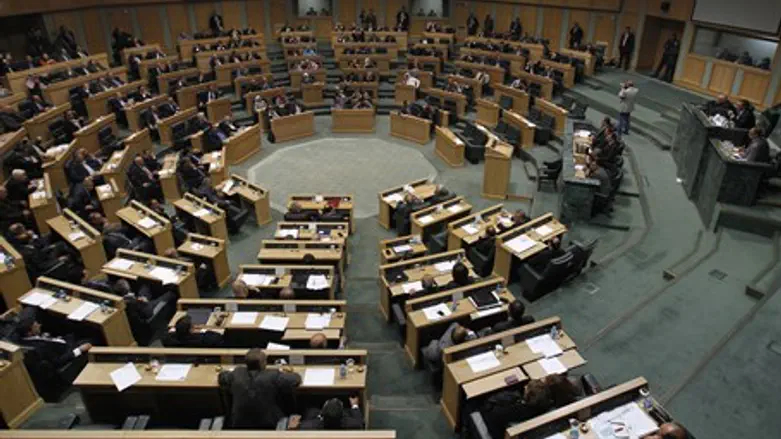 Jordanian parliament
Reuters
Jordan's new Prime Minister, Hani Mulki, who was appointed by King Abdullah II on Sunday after he dissolved parliament, is being described by Arab media as "pro-Israel".
Husam Abdallat, a former senior government aide at the prime minister's office, told the Al Jazeera network on Monday that Mulki will most likely be given the job of attempting to engineer new negotiations between the Palestinians and Israelis.
"Mulki will be working to bring Palestinians and Israelis to the negotiation table and work to bring a final solution to the Palestinian cause which will most likely be at the expense of the Palestinian people," he said.
Al Jazeera in its report cited Mulki's "strong Israeli ties", noting in that section one of the final acts of the outgoing parliament last week, which was the passing of the "investment law", allowing foreign countries, including Israel, to invest in strategic projects in Jordan, such as energy and infrastructure development.
The majority of parliamentarians voted in a morning session against the inclusion of Israel in the law, but later in the day went on to rescind that vote.
"Passing the investment law and allowing Israel to have control over our economics constitutes a serious threat to Jordan's economic interests and its national security," retired army general and columnist Mousa al-Odwan told Al Jazeera.
Mulki's alleged "strong ties" to Israel stem from the fact that he previously chaired the Jordanian government committee that negotiates with Israel from 1994-96.
Tareq al-Fayed, an Amman-based analyst on Jordanian affairs and a journalist at the London-based Al-Quds Al-Arabi newspaper, told Al Jazeera that Mulki enjoys long and strong ties with Israeli leaders, which would not only enable him to smooth over bilateral differences but also bring in Israeli capital and investment to help the faltering Jordanian economy.
Though Jordan has a peace treaty with Israel, signed by King Abdullah's father Hussein, the country's parliament, which is made up mostly of Islamists, remains anti-Israel and its members have more than once called to annul the peace treaty.
Several years ago, Jordan MPs unanimously demanded the government expel the Israeli ambassador from Amman as a punitive measure after detectives in Israel detained the mufti of Jerusalem on the Temple Mount.
Nevertheless, Deputy IDF Chief of Staff Yair Golan recently said that Israel has seen "unprecedented" intelligence cooperation with both Jordan and Egypt, another country with which Israel has a peace treaty.