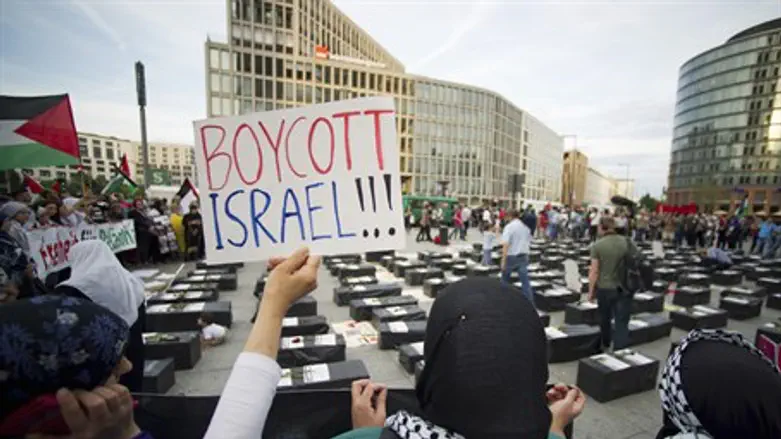 BDS (illustration)
Reuters
A new landmark poll has revealed that a full third of Americans believe the BDS movement's boycott of the Jewish state is justified, in a sign of shifting support from the US which has traditionally been a staunch ally of Israel.
A full 33% of Americans called a boycott of Israel justifiable, according to the poll conducted by Ipsos among 1,100 respondents in the US, which was reported by Channel 2.
The poll shows that the intense BDS college campaigns are gaining traction in the wider public consciousness of the US, as well as in the UK.
A similar poll in the UK found that a full 40% back a boycott of Israel, showing hostility to the Jewish state is even higher in Great Britain.
However, in a telling result, 62% of respondents in the US and 50% in the UK said the BDS boycott movement is a form of anti-Semitism.
The findings come ahead of a special conference at the UN on Tuesday entitled "Building Bridges, Not Boycotts," which will be held by Israeli Ambassador to the UN Danny Danon.
"We have no ally more important than the US and no closer friends that the US community in all its variety," Danon said, as quoted by Globes on Monday.
"The students and young people of today are, however, less committed to the special tie between the two countries than were previous generations."
Danon warned that, "there is no doubt that the BDS movement is not letting up on its attempt to harm Israel. Together with our partners, we shall continue to stand firm in the face of any threat, and we shall win."
His warnings based on the poll come after a filmmaker just last week found that university students at a campus in the Pacific Northwest were more than happy to fund Hamas terror attacks against Israel, in another worrying sign of the shifting support.
The UN conference on Tuesday will be held together with the World Jewish Congress, Keren Hayesod, the American Center for Law and Justice, the Anti-Defamation League, the Zionist Organization of America, Israel Bonds, StandWithUs, B'nai B'rith International, Hillel, CAMERA, and other organizations.
Over 1,500 students and representatives from anti-BDS organizations, together with lawyers and other leading figures are to take part in the conference.