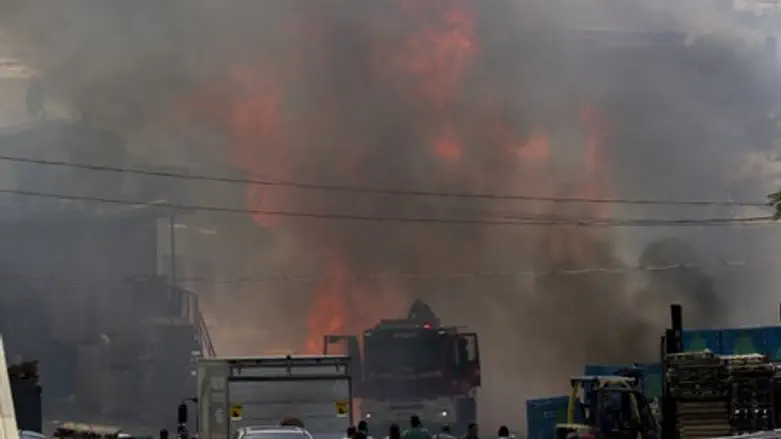 Fire in Jerusalem
Shlomi Cohen/ Flash90
Lag Ba'Omer fires may have sparked the massive blazes in Emek HaArazim, Ramot, and Jerusalem's Romema neighborhood the Fire Department announced Monday. 
A campfire in Emek HaArazim, near Ramot, probably started the blaze as Lag Ba'Omer festivities ended, spreading due to northwest winds at approximately 12:05 pm Thursday, the Investigative Department of the Jerusalem Fire and Rescue Service said. The blaze eventually grew to a wildfire, spreading easily through the forest. 
Then, due to a change in wind direction, multiple small fires broke out in Emek Hazevaim, eventually converging into a large fire that swept through that valley. 
A fire in Romema, meanwhile, was likely started by Israeli youth building bonfires in the heavily-crowded neighborhood, the investigation added, aided by high winds and dry air. The wind tunnel spread the fire quickly through the neighborhood, causing hundreds of families to evacuate. 
The two blazes were the latest in a spate of fires across Israel this spring/summer season. After 1,500 fires were recorded in five days in April, experts warned that the prime culprit is a lack of fire safety; as such, Lag Ba'Omer, where the nation's children build bonfires anywhere and everywhere proves a day prone to fires every year. 
צילום: אלירן אהרון
credit: יונתן סינדל, פלאש 90
credit: יונתן סינדל, פלאש 90
credit: יונתן סינדל, פלאש 90
credit: יונתן סינדל, פלאש 90
credit: יונתן סינדל, פלאש 90
credit: יונתן סינדל, פלאש 90
credit: יונתן סינדל, פלאש 90
credit: יונתן סינדל, פלאש 90
credit: יונתן סינדל, פלאש 90