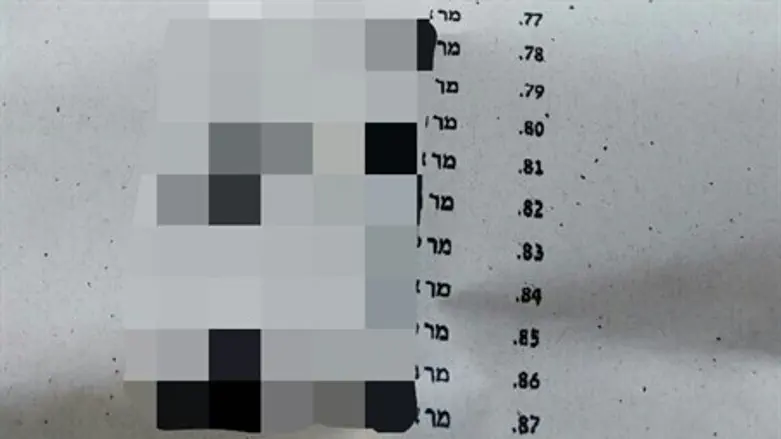 The administrative order
Honenu
In an unprecedented move, Homefront Commander Maj. Gen. Yoel Strick has forbidden a Jewish youth from contacting a whopping 87 people, all of whom were listed by name in an administrative order.
The youth received two administrative orders last Friday - the orders are a relic from the British Mandate which do not require any evidence, trial or even charges and can be repeatedly renewed.
One of the orders was signed by IDF Central Commander Roni Numa, and it banned the youth from entering Judea and Samaria. The second was signed by Strick and imposed a nighttime house arrest on the youth in a home near Jerusalem - it also banned him from getting in touch with 87 people.
The order was issued under the recommendation of the Israeli Security Agency's (ISA, or Shin Bet) controversial Jewish department, with no trial or evidence. The order lists its own supposed justification as: "ensuring the security of the state, the well-being of the public, and maintaining public order."
Last year the ISA through IDF commanders started issuing numerous administrative orders banning contact between Jewish "hilltop youths" in Judea and Samaria, although most such orders forbid contact with 20 or so individuals.
The Honenu legal aid organization, which is assisting the youth, slammed the decision by saying, "the security establishment long ago began on a slippery slope whose end is unclear."
"Under the guise of 'security of the state' people are jailed without trial, families are expelled from their homes and places of work, and bans on contact between a youth and nearly 100 people are created," warned the organization.
"Most of the public is unaware of what is taking place in the shadows, and feel certain that 'it won't happen to me,' although this is a case of destructive norms becoming a routine matter."
Honenu stated that "we hope the new Defense Minister will study the matter during his grace period, and maybe he will succeed in stopping what is falling down this slippery slope."
One of the pages of the order listing the people forbidden from contact Honenu