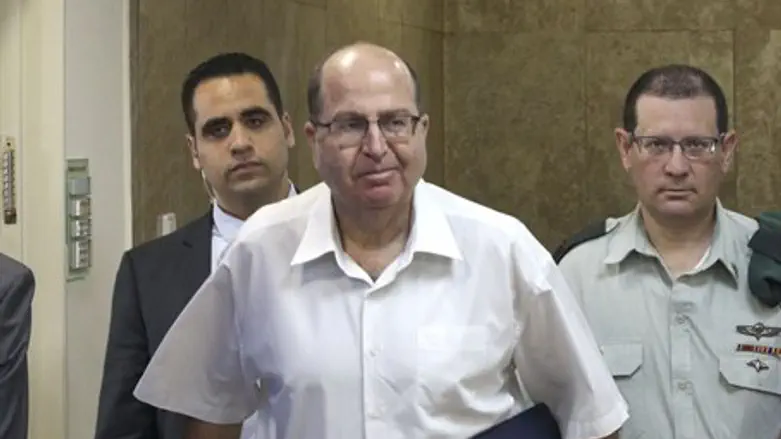 Moshe Ya'alon
Amit Shabi/POOL
Outgoing Defense Minister Moshe Ya'alon (Likud) addressed the resignation of Environmental Protection Minister Avi Gabay (Kulanu) from politics Friday, praising the move as taking a stand against Prime Minister Binyamin Netanyahu's leadership.  
"In our politics, standing firm on principles has become subject to ridicule, whereas flip-flopping and deceit are considered 'sophisticated,'" Ya'alon tweeted Friday. "The full assessment of Avi Gabay shows there's another way. We cannot give up." 
Ya'alon also quit politics last Friday, in protest over Netanyahu adding Yisrael Beytenu to the government and appointing former Foreign Minister Avigdor Liberman as Ya'alon's replacement. 
Both politicians - as well as Yisrael Beytenu MK Orly Levi-Abekasis, who resigned from her party over the coalition deal - have received support from leftist MKs, most vocally from the Zionist Union.
The Environmental Protection Ministry, meanwhile, is expected to stay in the hands of Finance Minister Moshe Kahlon's Kulanu party. 
Kahlon addressed Gabay's resignation earlier Friday, thanking him for his service and emphasizing his role in the party's founding. 
"The Ministry of Environmental Protection has made a significant impact on the quality of life for all of us and I intend to continue to implement the plans we started, collaborating with the CEO of the office and working with their dedicated employees," Kahlon announced.
"Avi Gabay was one of the founders of Kulanu," he added. "He was among the first who believed in pushing for the establishment of an economic, social, and national party which would begin a new path."