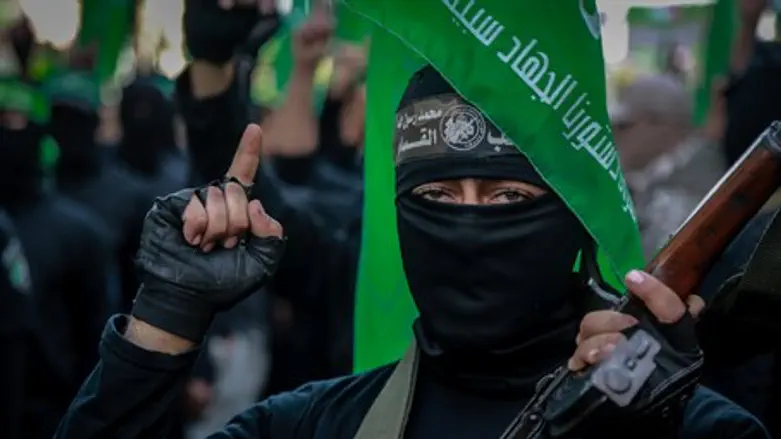 Hamas terrorist in Gaza
Emad Nassar/Flash 90
Hamas members of the Palestinian parliament are claiming that the death penalty in Gaza can be carried out without the consent of Palestinian Authority (PA) chairman Mahmoud Abbas, AFP reports.
The declaration came after Hamas officials said earlier in the week they were planning a series of public executions in the Gaza Strip.
The decision was announced in a statement from parliament members in Gaza, but it was unclear how many lawmakers of the Hamas-dominated Palestinian Legislative Council were in attendance or how they claimed the authority to rule.
The full Palestinian Legislative Council has not met since Hamas took over Gaza in a bloody coup in June 2007, ousting Fatah forces loyal to Abbas.
The announcement of the public executions for convicted criminals is a change in policy by Hamas, which in the past has rarely carried out public executions in Gaza, and when it did, it was mainly of people accused of collaborating with Israel.
In theory all execution orders in the Palestinian Authority's territories must be approved by Abbas, who is based in Ramallah.
But Hamas, which runs Gaza, no longer recognizes his legitimacy, and authorities have announced they are planning to carry out a series of public executions despite the moratorium on executions that Abbas announced several years ago.
The United Nations condemned the move on Wednesday.
"We are deeply concerned about recent statements made by the authorities in Gaza, including the attorney general, of their intention to implement a number of death sentences, and fear that the first executions may be imminent," said Rupert Colville, spokesman for the UN High Commissioner for Human Rights, according to AFP.
"We are also concerned about reports indicating that these executions will be implemented without the approval of the Palestinian President Mahmoud Abbas, which is required under Palestinian law," he said in a statement.
The UN's Middle East envoy, Nickolay Mladenov, on Wednesday expressed alarm over the public executions and urged Hamas to change course.
"I urge Hamas not to carry out these executions and call on President Abbas to establish a moratorium on the implementation of the death penalty," Mladenov told the Security Council by video-conference.
According to the Palestinian Center for Human Rights, nine death sentences were handed down in Gaza in 2015 and two in the PA-assigned areas of Judea and Samaria. So far this year, around 10 more have been handed down in Gaza.
Amnesty International has previously called on Hamas to stop the executions of suspected collaborators, saying that the group "must immediately and totally cease its use of the death penalty."