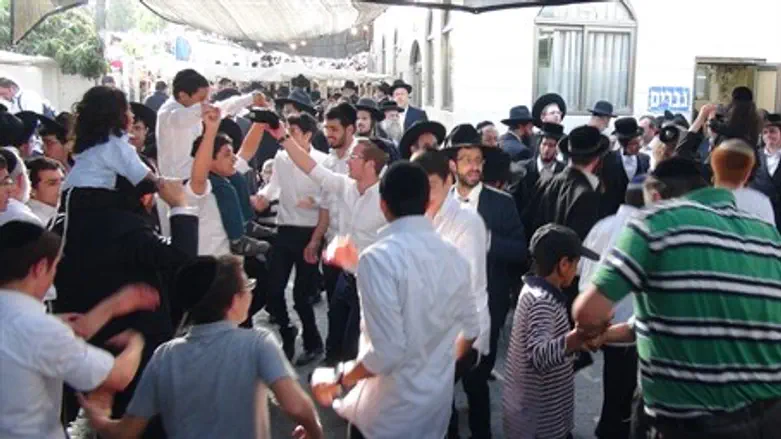 Lag B'Omer at Shimon Hatzadik
Hezki Baruch
Thousands of Jews visited the tomb of Shimon Hatzadik located north of the Old City in Jerusalem on Wednesday night and Thursday for Lag B'Omer, which marks the passing of Rabbi Shimon Bar Yochai (Rashbi).
Shimon Hatzadik was a High Priest in the Second Temple period and among the last members of the Great Assembly. The neighborhood where his tomb is located - which is named after him - is largely Arab but has a growing Jewish population returning to the once Jewish area.
Yoni Yosef, an organizer of the annual Lag B'Omer festivities at Shimon Hatzadik tomb, told Arutz Sheva that "as is done each year according to the custom of Jerusalem, we see thousands of Jews thronging to Shimon Hatzadik to celebrate Lag B'Omer."
He compared the festivities with those in Meron, where Rashbi is buried and where turnout on Lag B'Omer has in recent years jumped upwards of 600,000 visitors.
"Like in Meron it's happening for us too, every year there are more participants despite the fact that the Jerusalem municipality didn't publicize the hilula," he said, using the term for the public celebration in memory of a noted rabbi on the day of their passing.
"People arrive despite the security situation and strengthen the Jewish presence at the site," Yosef told Arutz Sheva. He thanked Yossi Shwinger, chairperson of the Center for the Development of Holy Sites, noting, "without his help we wouldn't be celebrating here."
Eyal Pluss, who arrived at the celebrations all the way from Haifa, told Arutz Sheva that "once there weren't people here and today I'm happy to see that thousands arrive here."
"Before 1968 my grandfather was massacred not far from here in a caravan that was supposed to arrive at Hadassah Hospital, and unfortunately he still has not been buried. Shimon Hatzadik is no less important than Meron."
A visitor from Hevron who identified himself as Avraham said he arrived with his family after stopping at Rashbi's grave as well.
"On Monday I was at Meron and today we're here at Shimon Hatzadik. Rabbi Shimon Bar Yochai comes to every place where there is celebrating."