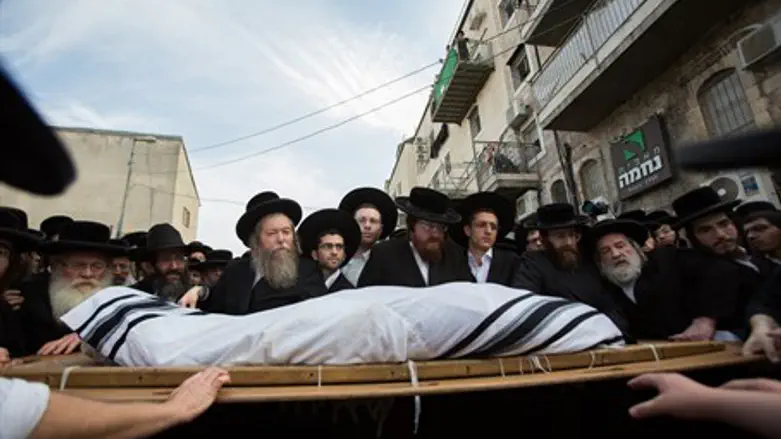 Rabbi Yeshiyahu Krishevsky's funeral
Yonatan Sindel/Flash 90
In addition to the traditional Lag Ba'omer commemoration of Rabbi Shimon Bar Yochai (Rashbi), this year thousands of Ramat Beit Shemesh residents remembered terror victim Rabbi Yeshiyahu Krishevsky on Thursday.
Rabbi Krishevsky, a member of the Pinsk-Karlin Hassidic sect, was murdered in a combined car and stabbing attack in Jerusalem's Geula neighborhood last October.
As part of the tribute on Wednesday night, Rabbi Krishevsky's cousin, Rabbi Pesach Krishevsky – who miraculously survived the horrific attack – ignited the bonfire.
The event was organized by the educator Rabbi Shlomo Schlesinger, head of the Noam Torateinu institutions in Beit Shemesh, and included speeches from Rabbi Aryeh Yudelevich and Rabbi Natan Kofshitz.
A communal Upsherin (traditional "first haircut" ceremony held on a boy's third birthday also known as halake) also took place at the Lag Ba'omer ceremony.