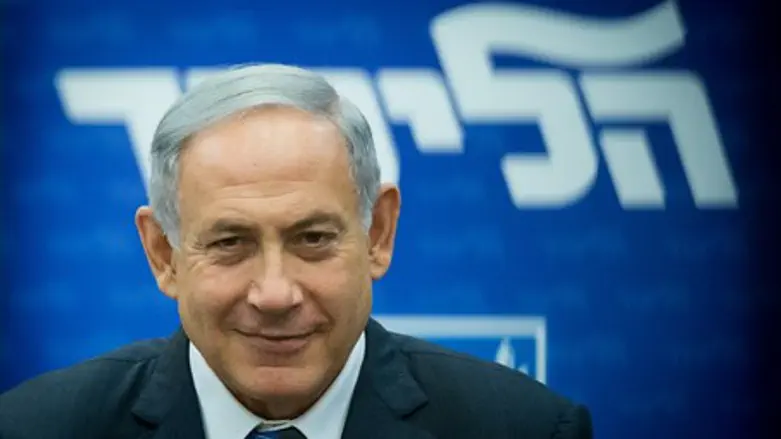 Binyamin Netanyahu
Miriam Alster/Flash 90
Prime Minister Binyamin Netanyahu had harsh criticism for the media on Tuesday evening, over its coverage of the State Comptroller's report which slammed Netanyahu over his conduct in the so-call "Bibi-Tours affair."
The saga revolves around a series of overseas visits during Netanyahu's tenure as Finance Minister from 2003-2005, and includes suspicions of double-billing for trips, acceptance of gifts in a manner barred by law for public servants, and improper use of state flight benefits for private travel.
Netanyahu's criticism particularly singled out Channel 10, whose political commentator Raviv Drucker first exposed "Bibi-Tours" several years ago. Drucker is one of several prominent Israeli journalists who have consistently attacked Netanyahu over the years.
"I guess it's inevitable that television reports on the State Comptroller's report will be extremely biased while ignoring the basic facts," Netanyahu wrote on Facebook, before blasting Channel 10 for failing to invite a spokesman on behalf of the Prime Minister to respond to the contents of the report.
"Channel 10 outdid itself when it would not even allow a representative on my behalf to present my stance. Drucker interviewed [Channel 10 legal reporter Baruch] Kra, Kra interviewed Drucker. Balance at its best..." Netanyahu wrote sarcastically.
In his report, State Comptroller Yosef Shapira summarized that, among other things, the evidence pointed towards "suspicions of double-billing," as well as a problematic "lack of clarity" regarding the use of bonus points by the Netanyahu family on Israel's El Al airlines.
He criticized Netanyahu for not seeking legal advice regarding the proper use of travel expenses.
Reports said that the police and justice ministry are both analyzing the findings to ascertain whether to launch criminal proceedings.
However, no formal charges have been leveled nor has any police investigation against the Prime Minister been opened.
As such, sources close to Netanyahu said he had been vindicated by the report, noting that the criticisms of him fell far short of what many had been suggesting.
One source accused Netanyahu's detractors of "making a mountain out of a molehill," after "years of bombastic headlines".
He added that the report proved that there were "no conflicts of interests, no double-billing and nothing illegal" in Netanyahu's travel arrangements.
"For years Netanyahu and his family have been inspected with a fine tooth comb, and they didn't find anything - because there isn't anything."