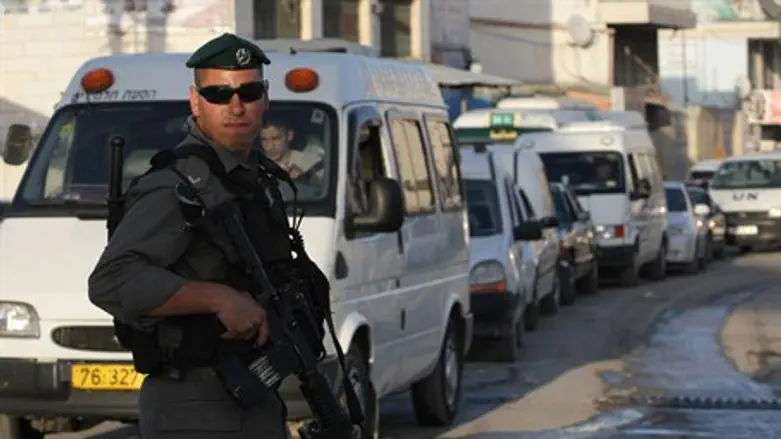 Border Police (file)
Kobi Gideon/Flash90
An Arab terrorist attempted to stab Israeli Border Police officers manning a checkpoint north of Jerusalem Monday afternoon.
The female terrorist was shot and "neutralized" before she was able to harm anyone at the Ras Bidu checkpoint, according to police.
An investigation revealed that at around 2:30 p.m. an Arab woman drew the suspicion of Israeli forces at the checkpoint, who called on her to stop. When she did not heed their instructions and continued approaching, officers fired in the air, as per protocol, at which point the terrorist drew a knife and ran towards them.
Officers opened fire, fatally wounding the terrorist. Paramedics confirmed her death soon after.
A wave of deadly knife and other terror attacks against Israelis since late last year has ebbed over the past few weeks, but Arab attacks and attempted attacks still continue.
Last week, alert police officers thwarted a stabbing attack inside Jerusalem, after noticing a 16-year-old Arab youth who drew their suspicion.
When the suspect alighted a bus, officers followed him and forced him to disembark. A quick search revealed a knife concealed in his clothes, and the suspect admitted he was on his way to carry out a stabbing attack near Damascus Gate - a site which has been regularly targeted by terrorists.