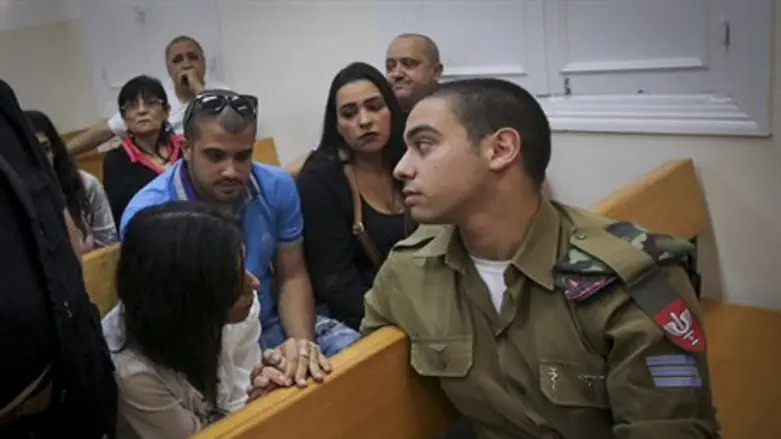 Elor Azariya in court with his family
Flash 90
Yafo Military Court President Col. Maya Heller has replaced the panel of judges in the case of IDF soldier Elor Azariya, who is on trial for charges of manslaughter after having shot a wounded Arab terrorist in Hevron.
The decision to replace the judges was made after one of them, Lt. Col. Yogev Yifrah, noted that he has a previous personal acquaintance with Hevron Division Commander Deputy Maj. Gen. Yariv Ben-Ezra, who is a key witness in the case.
Yifrah's disqualification was made on the request of Azariya's lawyers, attorneys Ilan Katz and Eyal Basserglick, over concerns of a conflict of interests.
The IDF claimed that the previous acquaintance of the judge with the commander would not influence the case, in an argument thrown out by Heller.
The new judges have yet to be announced.
Azariya has argued that he shot the terrorist - who minutes earlier together with an accomplice stabbed and wounded a soldier - out of fears he was moving to detonate a bomb belt. It has been confirmed that concerns over the presence of a bomb belt had not been ruled out.
His lawyers argue that politicians have interfered with the case, not only through outgoing Defense Minister Moshe Ya'alon's (Likud) ceaseless condemnation of the soldier, but also due to the fact that military prosecutor Lt. Col. (res) Nadav Weissman was called up for reserve duty for the express purpose of prosecuting the case.
On Monday, Elor will arrive at the Yafo Military Court where the indictment against him on charges of manslaughter will be read out.