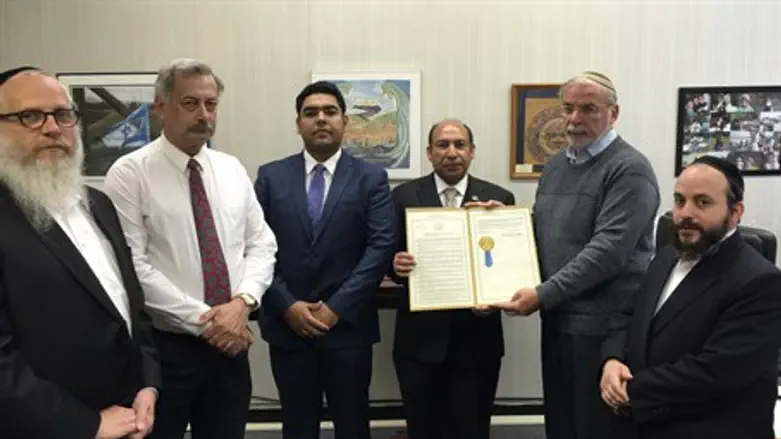 Hikind presents Abu Khaliquzzaman with legislative resolution
PR photo
New York Assemblyman Dov Hikind (D-Brooklyn) on Thursday presented well-respected community leader Abu Naser Khaliquzzaman with a legislative resolution for Khaliquzzaman's continued dedication to bridging Jewish and Muslim communities.
"It is my pleasure to present Mr. Abu Naser Khaliquzzaman with a legislative resolution for his work and unrivaled dedication to bridging many communities together throughout the world," Assemblyman Hikind said. "We are all children of God, and that's what is impressive about Abu – he works with every community regardless of religion, race or creed."
Hikind added, "I was thrilled to have joined Sen. Charles Schumer and a plethora of other elected officials in honoring Abu for the great work that he does and will continue to do. From the bottom of my heart, I want to say 'thank you.'"
Khaliquzzaman accepted the resolution with his son Ishtiaque Zaman and Arthur Isaacson—principal of Arthur Isaacson & Co., CPA—, along with members of the Jewish community who were in attendance as well. A native of Bangladesh, Khaliquzzaman migrated to the U.S. in 1997, where he earned a B.S. and M.S. in Pharmacy.
He is the current president of World Trade Promotion Center, Inc., a Brooklyn-based distributor of American food and agriculture products. Additionally, Khaliquzzaman was elected President of the Parent Teacher Association of I.S. 220 back in 2007, and currently serves as a Board Member for the District 12 Dahil Neighborhood in Brooklyn.
"Life is all about doing for other people and being there when people need you most, and that is what Abu exemplifies," Hikind concluded. "We need more people like him in this world."