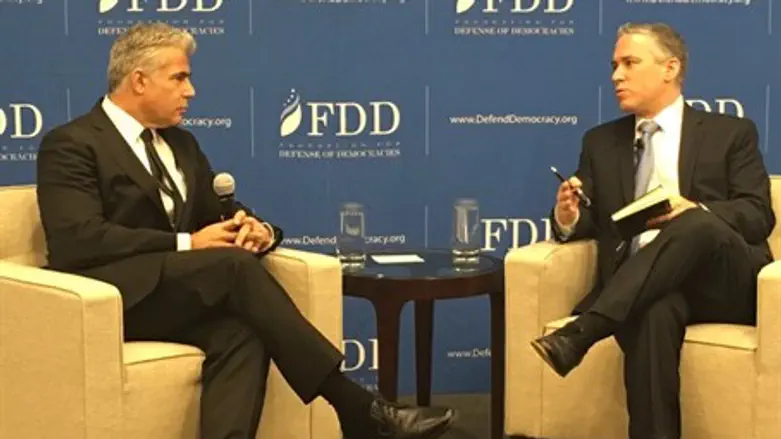 Lapid at the Foundation for Defense of Democracies
PR photo
Yesh Atid chairman MK Yair Lapid on Wednesday said Israel should sign a memorandum of understanding on defense aid from the United States before the end of President Barack Obama's term in office.
"I definitely suggest to the Israeli government - and I've said this publicly as well as in private conversations with relevant people - Israel should sign an agreement for the security assistance with the current administration and not wait for the next administration," Lapid said during a Q&A at the Foundation for Defense of Democracies.
"The aid agreement should provide us with an answer to the new challenges we face," Lapid added.
"Israel is grateful to the United States for the aid and protection it provides and the many years of friendship, and we do not take it for granted. The fact that we are negotiating an agreement on the details of the assistance is important. There are a lot of numbers that are thrown into the air regarding the negotiations, and still this is a discussion and not an argument. I think the recent bad blood between Obama and Netanyahu over the nuclear agreement with Iran does not surround the debate on the aid agreement," he continued.
The current defense agreement between Israel and the United States remains in force until 2018, and Prime Minister Binyamin Netanyahu has been urged to accept President Barack Obama's 10-year military aid package which reportedly include a total of $145.8 million for Israeli missile defense programs, a sharp drop in financial support.
A total of $3 billion in defense aid is given annually, but Netanyahu has asked for an increase to $5 billion annually, in light of the greater need for security due to the growing Iranian threat after the nuclear deal. 
Reports last month said the White House would accept Israeli demands for increased military aid, following pressure by the Senate to do so.
Lapid was asked on Wednesday about the relationship between Israel and the U.S. and what he would do on the subject if he was prime minister.
"I met with Democratic members of Congress and discussed the need to restore the relations. Part of the power of the relationship is due to the fact that it always relied on relationships with both parties and it should remain that way. Even if there are disagreements, we need to know to manage them as friends. Israel should know how to say thank you to the U.S. more often," Lapid said.
"I went into politics because I want our country to progress to the next level. I believe that we have the capabilities to do so and we can lead the country to the next level. One of the keys to progress is the ability to communicate with the American administration," he added.