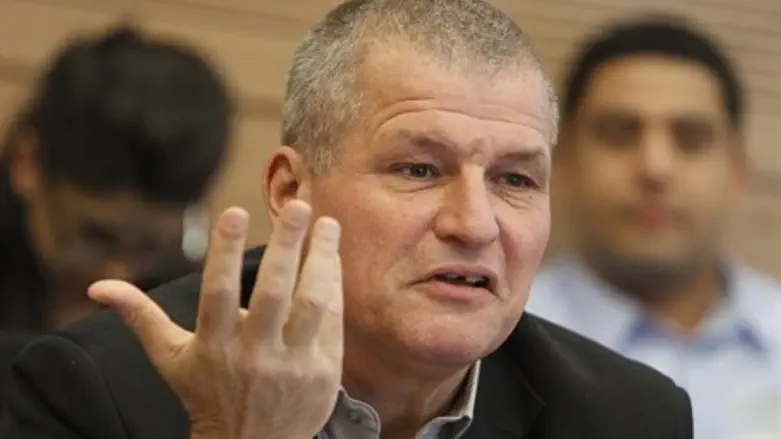 Mickey Rosenthal
Miriam Alster/Flash 90
MK Mickey Rosenthal of the Zionist Union continued his attack on party chairman Yitzhak Herzog on Sunday, calling him a "failed leader" who must resign.
"Herzog is a failed leader who lied to the public," Rosenthal charged in an interview with Kol Yisrael radio. "There was no pit or mine that he didn't fall into with his conduct."
Rosenthal further said that Herzog's talks on a unity government with Prime Minister Binyamin Netanyahu are meant to save himself, to the point that he is willing to sacrifice an entire party.
The remarks are the second time in recent days that Rosenthal has attacked Herzog over his talks with Netanyahu on a unity government.
On Friday, he took to Facebook to criticize the opposition leader over what he called "Herzog's desperate attempt to crawl into the government."
"[Joining the coalition] is abandoning the voters and showing disregard for the public interest in order to save the political career of one politician," wrote Rosenthal, who added, "The enormous damage caused by Buji is impossible to rehabilitate so long as he remains in office."
Rosenthal is, of course, not alone. A group of Zionist Union MKs informed Herzog on Thursday that he does not have the mandate to sign an agreement with the Likud and join the coalition, and declared they would not be part of the coalition even if he decides to enter.
Particularly harsh language was used by MK Stav Shaffir, who called the talks with Likud a "betrayal" of Zionist Union voters.
Nevertheless, Rosenthal's colleague, MK Eitan Cabel, responded to his criticism on Sunday and said Rosenthal was exaggerating.
"It is Herzog's right to negotiate with Netanyahu and look into a move that will bring cooperation," Cabel told Kol Yisrael, though he added that he is not "delusional" that such a move could take place.
Meanwhile, Herzog said on Sunday that entering a unity government with the Likud could lead to a "dramatic and historic change", adding that the talks are a "unique political opportunity" to force concessions, including the building freeze and forcing Israel back to the negotiating table with the Palestinian Authority (PA).