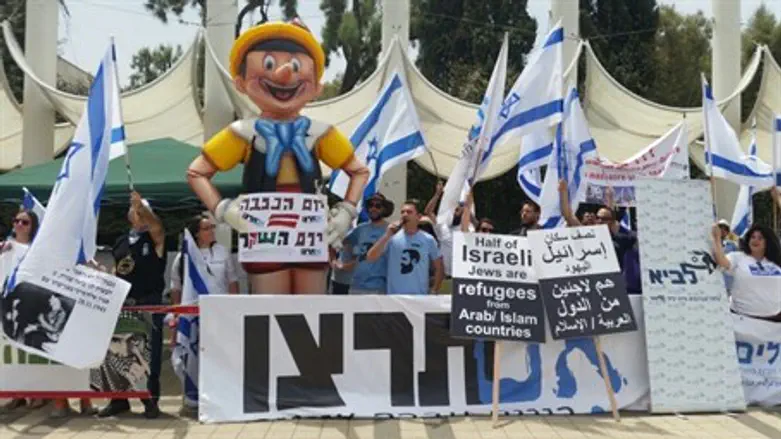 Anti-Nakba protest
Or Buchbut
Dozens of Arab student group members at Tel Aviv University together with radical leftists held a ceremony at the campus on Sunday morning, commemorating the Nakba (catastrophe in Arabic) which is how they refer to the Arab states' inability to destroy the fledgling state of Israel in 1948.
Opposing the Arabs and leftists mourning the foundation of the modern Jewish state were dozens of right-wing activists, ex-MKs and students in the university's Zionist student groups, who protested against the anti-Israeli ceremony being held on campus.
Arutz Sheva was on hand to speak with students taking part in the protest.
As part of the protest against the Nakba event, activists of the grassroots Zionist group Im Tirtzu passed out Israel flags and booklets entitled "Nakba Nonsense" which expose the truth behind the distorted Nakba narrative.
Im Tirtzu activists also brought a 15-foot tall inflatable Pinocchio doll to the counter-protest to emphasize the falsehoods being spread in the Nakba narrative, which seeks to turn those who sought to destroy the nascent state of Israel and slaughter its citizens into victims.
"The goal of these radical-Left organizations is to create an atmosphere of guilt within Israeli society about Israel's victory in the War of Independence; this in order to undermine from within the very existence of the State of Israel," explained Im Tirtzu CEO Matan Peleg at the protest.
"In the face of such a hypocritical anti-Israel event that aims to rewrite history, and which ultimately calls for the destruction of Israel, we must display Israeli pride and faith in the justness of our cause."
Peleg added that "we cannot afford the luxury of allowing this anti-Israel propaganda to go unchallenged. It is already widespread throughout the world, and is embedded within Israel backed by foreign political funds. We will continue to fight against this phenomenon with all the means at our disposal, without fear, and with a sense of great responsibility."
Former MK Dr. Michael Ben-Ari, chairperson of the Otzma Yehudit party, also took part in the counter-protest.
"They're crying that they didn't succeed in destroying us," he explained. "We are here to wish a happy Nakba holiday."
"They brought seven armies to rape, to cut off heads and to pillage in the name of Islam. We aren't sorry that we won. And we will continue to come to stand against the terrorists, not in order to convince them, but rather so that the Deputy Chief of Staff won't get mixed up again," he said, in a reference to Yair Golan's recent comparison of Israel to Nazi Germany on Holocaust Remembrance Day.
"We stand against them to remind who here are the Nazis, and who are the natives who returned to their land and have been attacked for over 100 years already by the neo-Nazi Islam," concluded Ben-Ari.