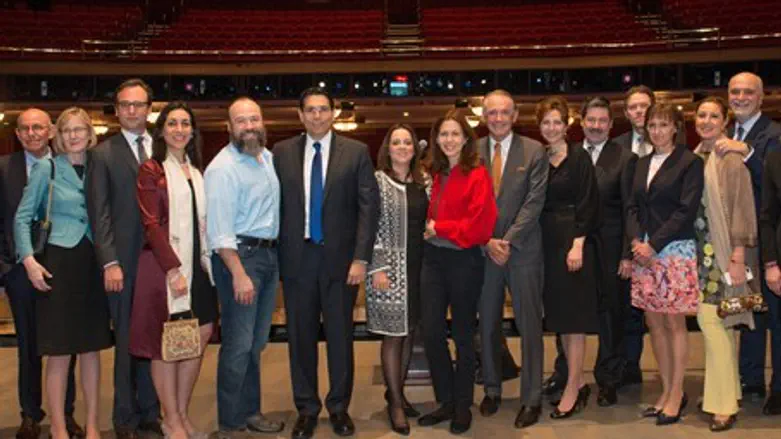 Danny Danon with Fiddler on the Roof cast
Nir Arieli
Israel's Mission to the United Nations held a unique Independence Day celebration Wednesday night, drawing a record number of guests.
Taking advantage of the UN's proximity to New York's famous Theater District on Broadway, the Israeli delegation invited UN representatives from around the globe for a special Independence Day ceremony, featuring a performance of Fiddler on the Roof.
Hosted by Israeli Ambassador to the UN Danny Danon, the event drew more than 1,300 guests from over 70 countries. Diplomats, senior UN officials, and Jewish leaders were all in attendance for what was the largest Independence Day celebration ever hosted by the Israel's UN delegation.
Danon was enthusiastic about the response to the Israel Mission's unorthodox celebration.
"It was gratifying to see ambassadors from around the world join us as we celebrated Israel's Independence Day, learning about an important element of our culture," Danon said. "Events like these provide us with the opportunity to present our heritage and further strengthen the diplomatic ties between Israel and countries around the world."