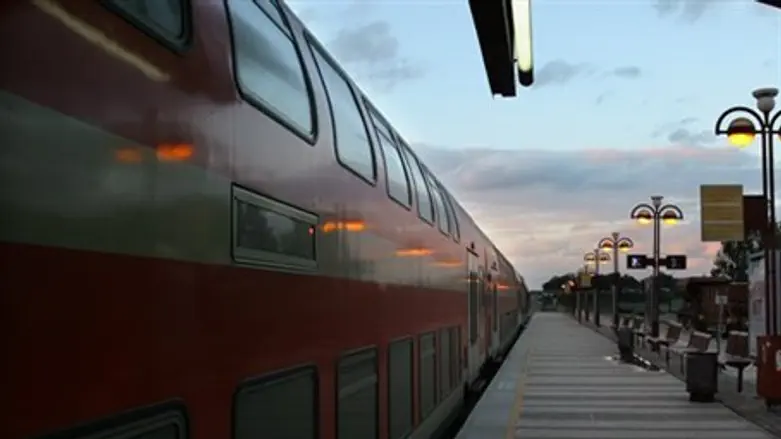 Israeli train (illustration)
Flash 90
Deputy Mayor of Ra'anana Haim Goldman (Jewish Home) has demanded that work on the national train system stop on Shabbat, turning Tuesday to Interior Minister Aryeh Deri (Shas), Transportation Minister Yisrael Katz (Likud), and Religious Services Minister David Azulai (Shas) over the issue. 
Goldman stated in an Arutz Sheva interview Tuesday that the issue should not be overlooked. 
"It was announced that work on the train will commence from Friday to Saturday night, and that all roads will be blocked in the process," he fumed. "I understand that this is to warn residents who drive on Shabbat, while work is done upgrading the Herzliya line's tracks in Ra'anana." 
Goldman noted that, as a government agency, Israel Railways is technically banned from performing upgrades on Shabbat. 
"I don't know why this was scheduled for Saturday - probably because some of the tracks are being laid near Route 6," he mused. "With respect to this Jewish and democratic state, there is a law called the law of working on Shabbat. Work on Shabbat needs prior approval from the Interior Minister - I wonder if he knows it." 
Israel Railways responded Tuesday that the work is necessary maintenance work and that it had received permits to carry such work out on Shabbat.
MK Bezalel Smotrich (Jewish Home), meanwhile, has addressed a statement to Prime Minister Binyamin Netanyahu and to Katz over the issue, calling on them to stop the work on Shabbat. 
"Israel throughout its existence has kept the Shabbat in public, and there is concern that operations will be carried out that affect the sanctity of the Shabbat, as well as public sensibilities." 
Calling the work "desecration of the Shabbat," he said "there is no justification for this, since this is not an essential resource or life-saving. The Israel Railways is a public body and as such we have to worry about Shabbat observance being kept."