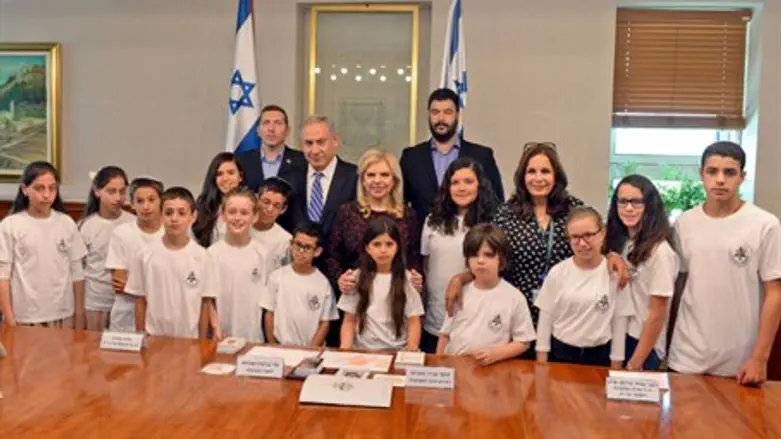 Binyamin and Sarah Netanyahu with the orphans
Haim Tzah/GPO
Prime Minister Binyamin Netanyahu and his wife Sarah met on Monday with the orphaned children of fallen IDF soldiers and those who died in the 2010 Carmel fire tragedy, in an event arranged by the IDF Widows and Orphans Organization (IDFWO).
Among the young orphans present were Raaya Greenfeld, Lavi Zussman, Noam Yisrael and Neriya Moreno, whose fathers were killed in the 2006 Second Lebanon War, as well as Ori Keidar whose father fell in the 2014 Operation Protective Edge.
Also present was Yoav Levi, as well as Gili and Roni Noah whose fathers died in the Carmel fire, and Sar-Shalom Twito whose father was murdered in a terrorist attack in Itamar in 2002.
Netanyahu, whose brother Yonatan was killed in 1976 while leading a daring rescue operation in Entebbe, told the children, "I care about you."
"I know exactly what you're going through. You are very young, I was older than you when my brother fell. It was very hard for me too, and I thought that my life would always have a deep defect in it, like something was missing, right? First of all that's true, but life afterwards fills up with other things. It fills up and will fill up with other things."
"You experience new things all the time, all the time," he continued. "There are new things, new experiences, but this loss will always be there. The memory and the longing will always be there. But you will also have a lot of other things, I tell you that from experience. You will have a lot of happy things."
Sarah Netanyahu also spoke with the children, and said, "it is important that you document and record your memories of your fathers, so that you will be able to tell your children about their grandfather."
She asked them about their daily lives and studies, and also spoke about the activities of the IDFWO.
The children told the prime minister and his wife about their families and their loss. They brought with them objects and mementos that remind them of their fathers, and showed them to Netanyahu, and afterwards they said the meeting helped them deal with their loss and heal the pain.
IDFWO chairperson Nava Shoham-Solan said after the meeting, "this is the third year that the prime minister and his wife are hosting IDF orphans."
"This visit strengthens the orphans and the mothers and demonstrates for them the warm embrace and the appreciation that the prime minister and his wife have for the loss and sacrifice of the families, and for that we give them heartfelt thanks."