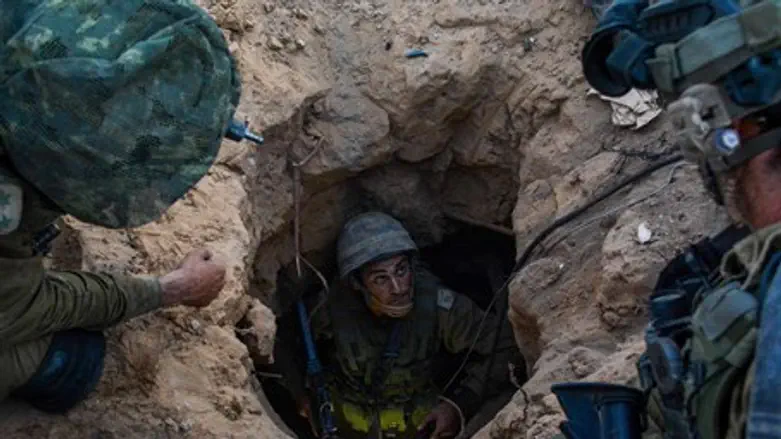 IDF soldiers in Hamas terror tunnel (file)
Flash 90
It has been cleared for publication that a veteran Hamas terrorist who was involved in the terror group's tunnel-building efforts has been captured by Israel.
Under interrogation the terrorist has revealed a wealth of information about Hamas's network of attack tunnels into Israel, as well as its massive network of tunnels inside Gaza, in preparation for any future war with Israel.
The news comes on the same day as IDF forces announced yet another breakthrough in the battle against Hamas's terror tunnels, unearthing the second attack tunnel into Israel in a matter of weeks.
Mahmoud Atouna, 29, hails from Jabaliyah in Gaza, and is a 10-year veteran of the Islamist terror group.
He was arrested at the beginning of April, after breaching the Gaza-Israel border armed with two knives, and admitted to security forces that he had planned to kill any Israeli soldiers or civilians he encountered.
Atouna was a member of Hamas's "military wing", the Izz a-Din al-Qassam Brigades, and was extensively involved in the group's terrorist activity, including the planting of explosives targeting IDF forces near Gaza.
Over the past several years, however, most of Atouna's work had been focused on Hamas's terror tunnel network.
He revealed to interrogators a boon of detailed information on the tunnel network within and from northern Gaza, including Hamas's tunnel-building techniques, their locations - including within private civilian homes and public institutions - their uses, and more. He even provided a detailed account of the materials Hamas uses to construct the vast, expensive and in some cases highly-sophisticated tunnels.
He traced the routes and excavation sites of the tunnel network, well as the hidden attack shafts from where Hamas's elite fighters would emerge to stage attacks against IDF forces in the case of any future war with Israel.
Far from the rudimentary, the tunnel networks - meant to shuttle weapons, equipment and fighters throughout Gaza during wartime - even included recreation rooms, bathrooms with showers, and canteens.
Atouna also handed over a long list of names of Hamas operatives who worked together with him in Hamas's northeastern battalion, and pinpointed the locations of multiple weapons storage facilities and other key strategic Hamas sites.
Atouna is one of a number of Gazan Hamas terrorists currently in the custody of Israel's Shin Bet security agency, whose interrogations form an important part of Israel's extensive efforts to locate Hamas infiltration tunnels into Israeli territory.
He was recently indicted on multiple terrorism charges at Beersheva District Court.