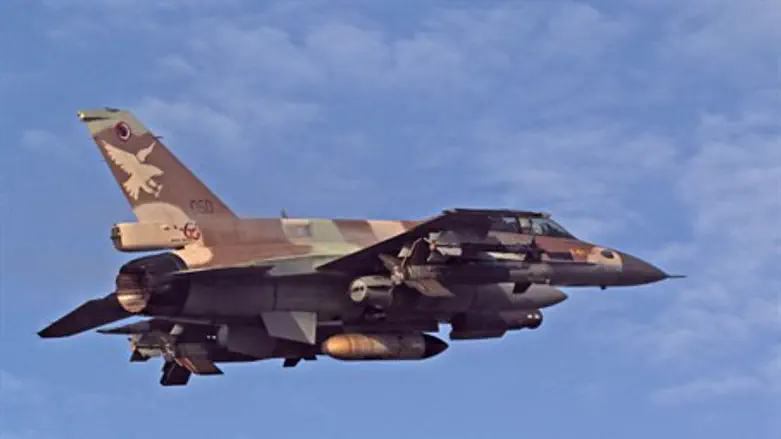 F-16 fighter jet (illustrative)
Flash 90
Israel launched air raids Wednesday on the Gaza Strip after a day of mortar attacks by targeted IDF forces on the Israeli side of the border.
Air strikes hit around Gaza's derelict international airport near the southern city of Rafah and in nearby farming areas, said the territory's Hamas-run Interior Ministry.
Security sources in Gaza said the jets fired two missiles at the airport but said no one was hurt in the strikes.
Israel's army said its warplanes had hit five sites operated by Hamas.
"The (IDF) will continue to operate in order to protect the civilians of Israel from all Hamas terrorist threats above and beneath ground," spokesman Peter Lerner said via Twitter.
The raids followed a bout of violence on the Gaza-Israel border Wednesday, with exchanges of fire that put a 2014 ceasefire agreement to the test.
Israeli tanks fired in response to mortar attacks at least twice, while the army designated an
Israeli border town a closed military zone.
A military official said up to five mortar shells in total were fired at Israeli territory on Wednesday, while forces were fired upon near the small border community of Nahal Oz.
"In accordance with security assessments, a closed military zone has been established in the area of Nahal Oz," an army statement said.
"It means that only the residents of Nahal Oz and the area can enter."
Earlier the Israeli army twice confirmed its tanks had fired on targets in Gaza, saying both times it was in response to mortar rounds fired from inside the Strip.
Hamas sources reported tank fire in Al-Tufah in eastern Gaza.
There were no reported casualties and no claims of responsibility for the mortar fire.


AFP contributed to this report