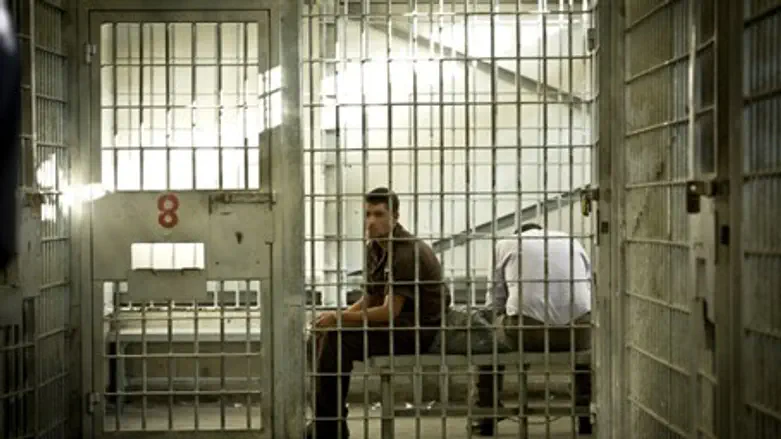 Prison (illustrative)
Flash 90
The Petach Tikva Magistrates Court extended journalist Sapir Nissani's remand by six days Tuesday, following her arrest for attempted matricide. 
Nissani, a Channel 10 correspondent who also works for several local newspapers, at first refused to enter the courtroom because she did not want to be photographed; she protested by sitting on the courtroom floor, Walla! News reports. Justice Carmit Ben-Eliezer allowed the objection and forced news photographers into the hallway. 
An Israel Police representative then began the hearing by opining that it is clear that Nissani did not - as she claims - pour boiling oil on her mother's head by accident, after tripping over her robotic vacuum cleaner.
Ben-Eliezer stated that "I was not under the impression that there were significant developments regarding whether or not it was an accident," and ruled to extend the remand in the interim. 
Nissani's mother is on life support at Meir Hospital in Kfar Saba and will be undergoing six operations to save her life after the attack.
While she cannot yet give testimony as to what happened, police say they have letters before the event proving Nissani's mother had requested a restraining order against her. Siblings, relatives, and neighbors also indicated a problematic relationship between the two. 
Meanwhile, Nissani claimed during a police investigation that her mother told her en route to Meir that the incident was not her fault - a claim medical staff present during the elder Nissani's admission to the emergency room corroborated during the hearing Tuesday. 
Despite this, "there is reasonable suspicion that links the suspect to the offenses attributed to her," Ben-Eliezer ruled, citing new evidence of a "complex and intricate" family background behind the incident which "could even have motivated murder." 
Nissani also tried to conceal evidence, Channel 10 reports.