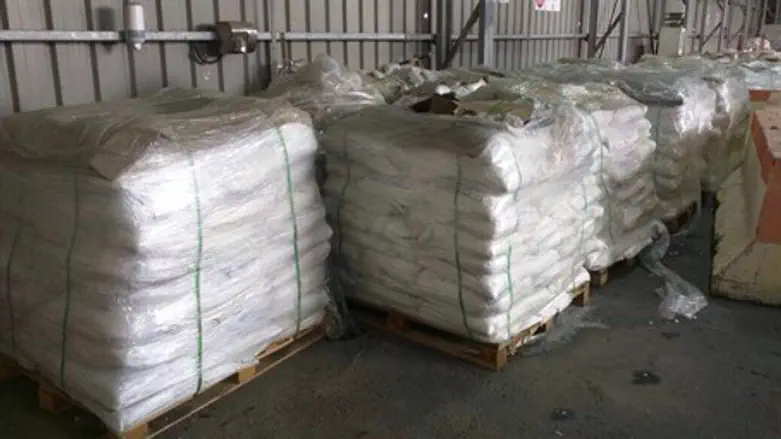 Bags of ammonium chloride
Customs Authority
Authorities have announced that customs investigators, along with the Israel Security Authority (ISA, also known as the Shin Bet or Shabak), recently prevented an attempt to smuggle four tons of ammonium chloride into Gaza.
The chemical, which is used in the production of weapons, was hidden in bags of salt. Four tons would have allowed Hamas or other terror groups to create hundreds of long-range rockets.
About a week before Passover, a shipment labeled as 40 tons of salt reached the Nitzana crossing, which is used for transporting goods between Egypt and both Israel and Gaza.
An extensive search of the containers revealed bags of ammonium chloride hidden among the salt.
Ammonium chloride is classified as a dual-use item, meaning that it has both civilian and military functions. Anyone who wishes to bring it into Gaza requires a license.
Suspicions have been raised in the ISA over the large amount of salt going to Gaza, because salt shipments are frequently used to smuggle chemicals for producing rockets.
The ISA believes that the importer, a Gaza resident with connections to Hamas terrorists, intended that the material be used for terror. This case illustrates the terror organizations' efforts to smuggle in dual-use materials in order to increase their fighting potential, while camouflaging their actions as intended to help the civilian population rebuild.
So far, authorities ave foiled dozens of attempts to smuggle forbidden materials into Gaza, including sulfuric acid, diving suits, rocket propellants, polyurethane, bars of sulfur, rolls of fiberglass, and coal designed to heat furnaces and process metal.