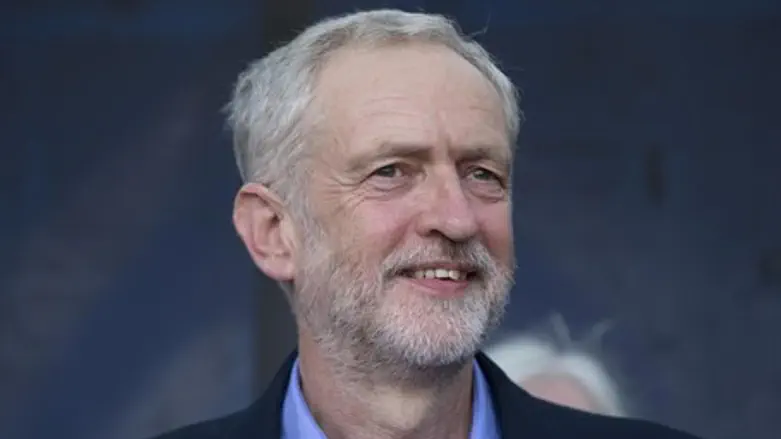 Jeremy Corbyn
Reuters
The Labour party in Britain continues to make headlines, and the Telegraph newspaper revealed on Monday evening that party leader Jeremy Corbyn described a convicted terrorist accused of plotting a series of suicide attacks in Israel as an "icon" and compared him to Nelson Mandela.
The comments were made in a post now deleted from Corbyn's website and were referring to arch-terrorist Marwan Barghouti who Corbyn said was an "iconic figure for ordinary Palestinians".
Barghouti was convicted of organizing attacks against Israeli civilians and allegedly founded the Al-Aqsa Martyrs' Brigade, the so-called "military wing" of Palestinian Authority (PA) chairman Mahmoud Abbas's Fatah movement.
Barghouti in an Israeli jail serving five life sentences for his role in planning suicide terror attacks in Israel, primarily during the Second Intifada between 2000 and 2005. He is widely perceived as a popular choice to replace Abbas, whose term in office expired several years ago, as PA chairman.
In the article entitled "An icon is born: Marwan Barghouti", Corbyn wrote, according to the Telegraph, "His sentence of five life terms by an Israeli Court means he now becomes an iconic figure for ordinary Palestinians, and his unshakable belief that he will be freed is shared by many."
"The Palestinian papers have likened his situation to that facing Mandela after the Rivonia Treason Trial in 1964. Indeed the similarities go well beyond the trial and prosecution of Marwan," added Corbyn.
The latest revelation adds fuel to the fire, as Labour has been involved in a series of scandals surrounding its members' anti-Semitic and anti-Israel comments.
On Monday alone, three city councillors from Labour were suspended over offensive comments made on social media, the latest one being Shah Hussain, whose comments directed against an Israeli soccer star in 2014 were publicized.
Of course, Corbyn himself has come under fire for calling Hamas and Hezbollah his "friends", and on Sunday he outright refused to condemn those two terrorist organizations despite being urged to do so by local Jewish groups.