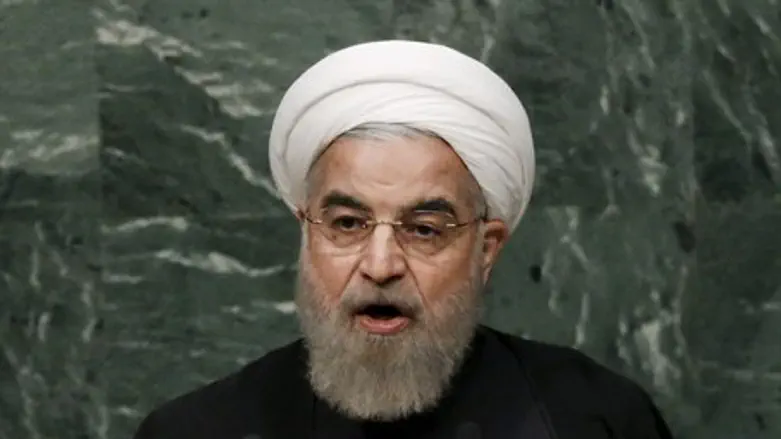 Hassan Rouhani
Reuters
In a somewhat ironic comment, Iran's President Hassan Rouhani on Monday stated that he was in favor of a Korean Peninsula free of nuclear weapons, The Associated Press (AP) reports.
Rouhani made the comments while meeting his South Korean counterpart, President Park Geun-hye, as she visited Tehran.
Rouhani reportedly told Park Iran seeks a world free of weapons of mass destruction, "especially nuclear" weapons.
"Our demand is a world free of weapons of mass destruction, especially freeing the Korean Peninsula and the Middle East from destructive weapons," he said, according to AP.
Park, for her part, said she has asked for Iran's help in implementing UN Security Council resolutions calling for the nuclear disarmament of the Korean Peninsula.
The remarks were aimed at North Korea, which has been hit with UN sanctions over its nuclear weapons program after it conducted four nuclear bomb tests and tested a long-range rocket – which it claimed was a hydrogen bomb – earlier this year.
But Rouhani's remarks are somewhat comical given his own country's nuclear ambitions.
Iran and Western powers signed a nuclear deal that was implemented several months ago, even though an International Atomic Energy Agency (IAEA) report dated December 2 found that Iran had conducted "a range of activities relevant to the development" of a nuclear bomb until 2009.
The UN watchdog had also previously released a report which determined that Iran had violated the terms of its nuclear deal with the West by increasing its stockpile of low-enriched uranium by 460.2 kilograms.
Despite these violations, the IAEA chose to close its probe into whether Iran had developed nuclear weapons in the past and subsequently announced that Iran met its initial obligations under the terms of the nuclear deal, enabling the implementation of the agreement and lifting of the sanctions on Iran.
Park had arrived in Tehran on Sunday for the first visit by a South Korean president to Iran since 1962, noted AP.
Rouhani said both sides agreed to increase their bilateral trade from the current $6 billion per year to $18 billion in the coming years. They also signed a number of agreements in the fields of oil and gas, railroads, tourism, and technology, and agreed to re-establish direct flights between Tehran and Seoul.
Iran has been seeking to reintegrate into the global economic system since the nuclear-related sanctions were lifted as part of the deal.