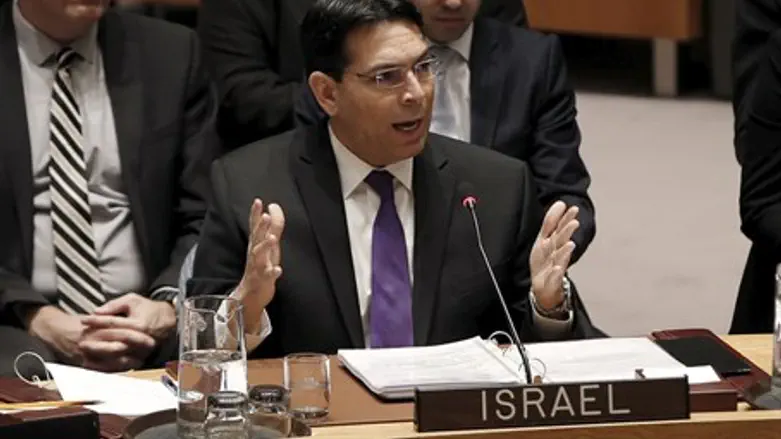 Danny Danon
Reuters
Tensions are high ahead of a May 30 conference which may force Israel into French-brokered negotiations with the Palestinian Authority (PA). 
Ahead of the conference, Israel has launched a PR war, Israel's Ambassador to the UN Danny Danon revealed Monday. Every country that does not attend is a victory for Israel. 
"There is action, were are not letting up," he stated to Maariv. "I'm interested to see who will come and who will not. Even if we want to go, we are not invited."
"We are in the position of collecting data, together with many ambassadors to hear what their positions will be on the issue," he added. "The Americans have still not expressed a position on the subject."
Danon noted that negotiations are impossible - not because Israel refuses, but because the PA won't cooperate. 
"When you look at the number of hours [Prime Minister Binyamin] Netanyahu and [PA Chairman Mahmoud] Abbas have negotiated, it comes down to just seven hours over the last seven years," he said. "This proves that there is no negotiation."
"The Palestinians say they have nothing to sit down with Israel about, and so it is impossible to negotiate on any issue," he continued. "Even when you go to buy an apartment, you can't know the outcome in advance. They want to know in advance who will be the players, who will mediate, and what will be the outcome of the whole game."
"I believe that, if there were a proposal to meet in Jerusalem or Ramallah, the Prime Minister would not reject it," he added. "Who rejects these meetings are the Palestinians." 
Danon addressed, as well, concerns over the future state of Judea and Samaria (Shomron). 
"The government makes these decisions and I do not know of a decision to freeze construction that has been formally approved by the government - but actually, when you look at the data, I do not see that there is massive construction in Judea and Samaria."
"The UN uses reports from Israel and one of the ambassadors cited a report by Peace Now, which said we built 1,500 housing units in the past year," he said. "I do not know if the data is correct, but even so - 1,500 housing units in all of Judea and Samaria is not significant building. No one can say that it is."
Tensions between Israel and the US, meanwhile, do not surface on the UN floor. 
"I'm on good terms with Ambassador Samantha Power," Danon revealed. "This is not a crisis atmosphere; the feeling is of hopelessness."
The Americans have "informally" implied that they are fed up with both sides, he added, "but this is not a crisis with Israel."
As for the general situation, Danon believes hope may be with Israel's moderate Arab neighbors.
"When you look at the Palestinians, you see no leadership and no one wants to take responsibility," he said. "If moderate Arab states once said, 'First you solve the problems with the Palestinians and then come talk to us' - today the trend is reversed. First we must approach them and they may help promote dialogue with the Palestinians."
"And I see that even the United Nations," he concluded. "I cannot give names, but I'm talking with Arab ambassadors. You hear what they say about the conduct with the Palestinians and Hamas, and we understand that there is a common future. "