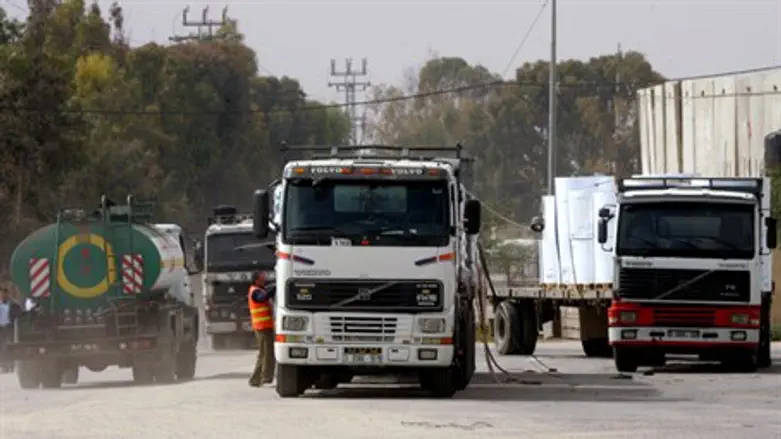 Trucks with food supplies enter Gaza through Kerem Shalom
Flash 90
As of Monday morning there will be prohibited movement for trucks and large vehicles on the roads leading south to Gaza, effective in the morning and afternoon, in order to increase the safety of local drivers and residents.
The limitation approved by the Minister of Transport and Road Safety MK Yisrael Katz (Likud), will prohibit said vehicles from the main roads leading to the Kerem Shalom border crossing in Gaza, from 7 a.m. to 9 a.m. and from 3 p.m. until 5 p.m.
Katz, in consultation and cooperation with the traffic police and the mayors of the towns of the Negev, decided to close the main routes during peak hours of traffic in light of data presented to him and after an examination conducted on the subject.
"I am determined to make this decision despite various opposition. Protecting the lives of students and residents of the Negev (south) who are exposed to dangers and accidents on the way to school precedes the need to provide products to the Hamas regime in Gaza," the minister said.
During the hours of restriction, trucks and large vehicles will be permitted to park in one of the provided lots, until they are permitted to resume driving.
Katz's office noted that the ban on truck traffic on these roads will not apply to truck drivers who live in the communities to which access is only obtained via the selected roads, nor will it apply to the passage of trucks and vehicles belonging to the IDF. Exemption for these vehicles is given by the traffic Commissioner in the southern region.