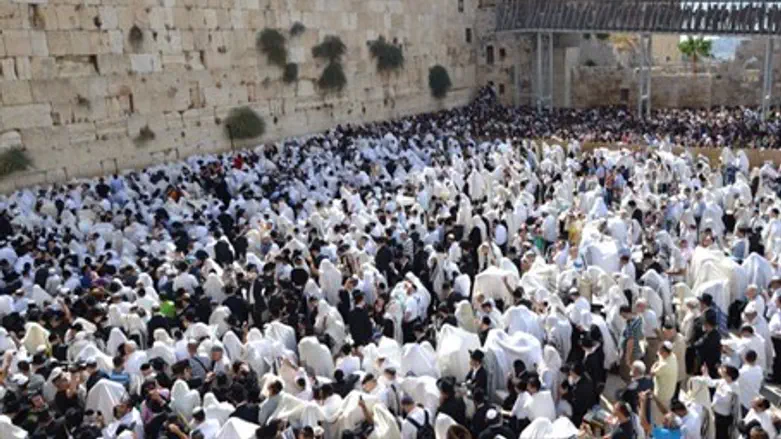 Priestly Blessing at Kotel
Photo: Aaron Wahab / 24 News Agency
On Monday morning at the Kotel (Western Wall) plaza, the traditional Priestly Blessing event, were hundreds of priests and tens of thousands of worshipers gather, will take place.
Shacharit (morning) prayer is set for 8:45 a.m., the Priestly Blessing at 9:30 a.m., Mussaf (additional holiday prayers) at 10:00 a.m. and an additional Priestly Blessing at 10:15 a.m.
To view live feed from the Kotel Plaza, click here.
A reception by the chief rabbis of Israel is scheduled for after the priestly blessing.
Thousands of police and Border Guard forces are cooperating with volunteers to protect the safety of the worshipers.
Police noted that the entry of private vehicles is prohibited in the Old City and due to anticipated traffic, they recommend citizens to use the following parking lots: Mount Scopus, Ammunition Hill, National Headquarters, and the International Convention Center.
Israeli police said that on Sunday, the first day of Chol HaMoed Pesach (the Intermediate Days of Passover), over 800 tourists entered the Temple Mount compound. With that, 9 Jews including 3 minors, were kicked off the temple mount compound for "breaching visit guidelines."
"Security forces and the Police and Border Guard officers around the city, including the Temple Mount are to manage with professionalism and sensitivity that characterizes the uniqueness of the place and the need to serve the public in a fair and equal basis," explained the police.
"We will continue to guard the (public) order on the Temple Mount to benefit all and to act decisively against anyone who tries to disturb the public peace and safety."