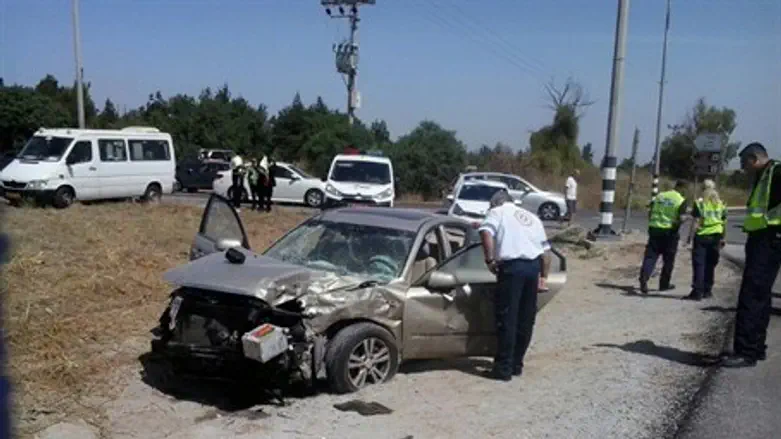 Crash on Route 232
Magen David Adom
A 60 year-old woman was killed and a 60 year-old man injured Sunday morning in a collision between a truck and a car on Route 232, near Kibbutz Be'eri. 
Magen David Adom (MDA) medics declared the woman dead at the scene after several attempts to revive her. The male victim is currently listed as being in fair condition at Soroka Medical Center in Be'er Sheva. 
The truck driver, a man in his thirties, escaped the incident without injury. Police have launched an investigation into the circumstances of the accident. 
"In a field, near the side of the road, I saw a private car totaled; just the truck was on the road," Senior MDA paramedic Yisrael Aharoni stated Sunday. "In the car sat a 60 year-old woman, unconscious, with no breathing and no pulse."
"We tried to give her medical treatment, but because of her severe injuries, we were forced to declare her dead at the scene shortly thereafter." 
Route 232 has been deemed "Blood Road" due to the proliferation of fatal accidents along its lanes over the past several years. The road, which is the main highway for residents of the Gaza Belt, stretches from Route 10 and the Kerem Shalom crossing into Gaza and Route 4 to Ashkelon. 
Sunday's accident is the latest in a spate of unusual crashes over the past several days. On Saturday night, a woman was killed in a collision on Route 375, outside Beitar Illit.