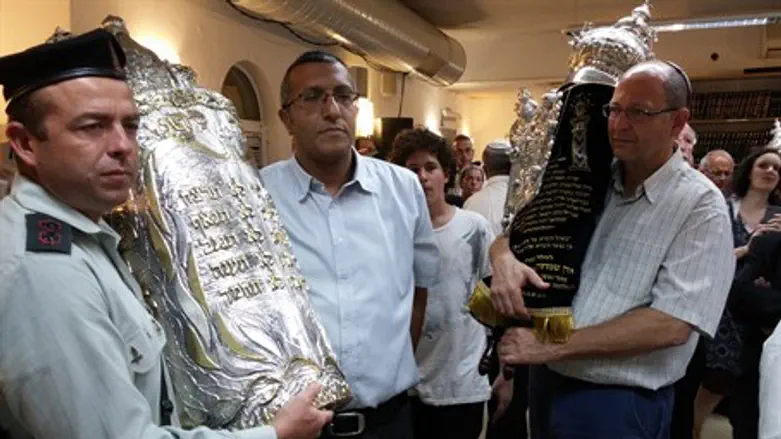 Dedication of the 18 Torah scrolls
Ido Ben-Porat
At Yeshivat Netiv Aryeh at the Western Wall Plaza in Jerusalem a moving ceremony was held on Thursday night, in which the final letters were written in 18 new Torah scrolls, most of which were donated for the merit of fallen IDF soldiers and terror victims.
Arutz Sheva was on hand for the ceremony, in which the symbolic number of 18 scrolls was chosen as the numbers are the equivalent of "chai" in Hebrew, meaning "life." 
The scrolls were donated by the American billionaire Yitzchak Leib Rennert, who so far has donated over 160 Torah scrolls.
Taking part in the moving ceremony was Tel Aviv Chief Rabbi Yisrael Meir Lau, Jerusalem Sephardic Chief Rabbi Shlomo Amar, Merkaz Harav Yeshiva dean Rabbi Ya'akov Shapira, Yeshivat Netiv Aryeh dean Rabbi Aryeh Bina, and IDF Chief Rabbi Rafi Peretz.
Among the soldiers that the Torah scrolls were donated in the honor of were Liel Gidoni, Dor Deri, Oren Noah, Natan Cohen and Netanel Maman who all fell in 2014 Operation Protective Edge, and Avner Shatz who fell in the 1973 Yom Kippur War.
Scrolls were also dedicated for terror victims including Bat Sheva Unterman who was murdered in a car ramming attack in 2008, Yair Nebenzahl who was murdered in a shooting attack in 2001, and Moshe Tamam who was abducted and brutally murdered in 1984.