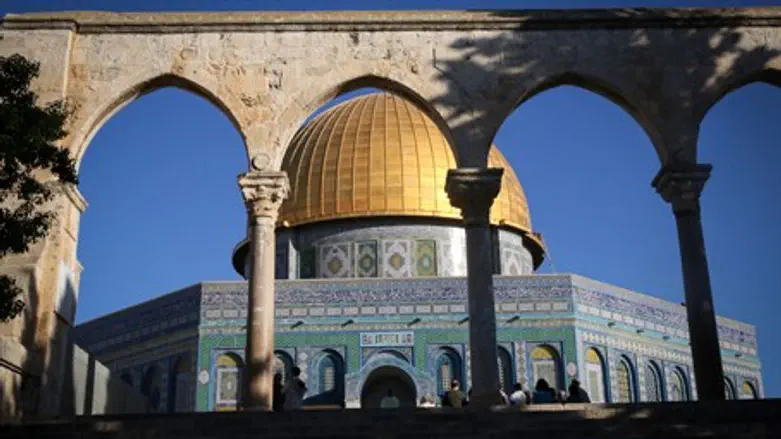 Dome of the Rock on the Temple Mount
Yossi Zamir/Flash 90
Under Prime Minister Binyamin Netanyahu's orders, the Foreign Minister issued a strongly-worded protest letter to all the countries that supported the recent UNESCO decision divorcing the Temple Mount from the Jewish people and treating it only as a Muslim site.
In the letter, Foreign Ministry director Dr. Dore Gold slammed the attempt to erase the Jewish connection to Jerusalem, the 3,000-year-old capital of the Jewish people, and to other Jewish holy sites.
Gold said Wednesday that "while the UNESCO decision has no practical validity, we will not allow international sources to blur the connection of the Jewish nation to its eternal capital."
Aside from the Foreign Ministry letter, activists have launched an online petition against the shocking UNESCO resolution, which aside from renaming the Temple Mount as Al-Aqsa Mosque also renames the Western Wall as Al-Buraq Wall, in reference to an ahistorical Arab attempt from the 1920s to claim the site.
Last October UNESCO also tried to deny Jewish heritage at two other Jewish holy sites - the Cave of the Patriarchs in Hevron and Rachel's Tomb in Bethlehem.
Faced with backlash from Israeli officials, UNESCO chief Irina Bokova on Monday called for "respect and dialogue," but did not backtrack from the shocking decision on the Temple Mount.
Netanyahu on Saturday night slammed the resolution as "yet another absurd UN decision."
"UNESCO ignores the unique historic connection of Judaism to the Temple Mount, where the two Temples stood for a thousand years and to which every Jew in the world has prayed for thousands of years. The UN is rewriting a basic part of human history and has again proven that there is no low to which it will not stoop."
Then, on Sunday, Science Minister Ofir Akunis (Likud) slammed UNESCO for its "boorishness" in a letter to Bokova, noting how the decision shows a "resounding lack of historical knowledge."
Rabbi Chaim Richman of the Temple Institute on Monday issued a sharp response to the decision, which "ignores the Jewish people's connection to the Temple Mount is another  politically-motivated act of revisionist history, obscene even by the standards of this morally bankrupt organization."
"Judaism was founded over 3500 years ago; Islam dates to the seventh century. The resolution flies in the face of both the Bible, bedrock of civilization, archaeological evidence, and scholarship."