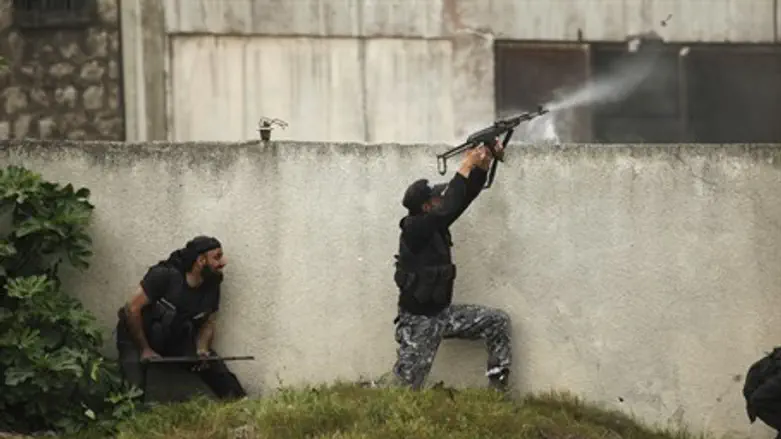 Syrian rebels
Reuters
The leaders of Syria's opposition delegation were leaving Geneva on Tuesday after the group suspended its formal participation in troubled peace negotiations, the opposition chief said.
The coordinator of the main opposition High Negotiations Committee (HNC), Riyad Hijab, told journalists he was leaving a day after the group put its participation at the talks on hold to protest escalating violence and restrictions on humanitarian access in Syria.
"I will be travelling today along with some of my colleagues from the HNC. Some people left yesterday and today and they will keep leaving gradually until Friday," Hijab said, speaking in Arabic.
Some delegation members will meanwhile remain in Geneva for technical discussions at their hotel with UN staff and for workshops on humanitarian issues and detainees, Hijab said.
UN peace envoy Staffan de Mistura said Monday he had been informed of HNC's intention to suspend its "formal participation" in the talks.
But he insisted the latest round of indirect discussions, which began on April 13, would continue through the week.
The UN envoy stressed that the indirect talks format - which has seen the HNC and Assad's representatives meet separately with UN mediators - created flexibility to continue the discussions.
'No truce'
But Hijab appeared deeply disillusioned with the process.
"We will not accept negotiations while our people are still suffering," he thundered.
"It is not suitable, neither morally nor on the humanitarian side to be part of negotiations when Syrians are dying daily from sieges, hunger, bombings, poisonous gases and barrel bombs," he insisted.
The HNC has accused the regime of President Bashar al-Assad of violating a fragile ceasefire in effect since late February more than 2,000 times.  
"There is no truce on the ground because there's no accountability," Hijab said, urging the UN Security Council to review the cessation of hostilities agreement negotiated by Russia and the United States in February.  
The landmark agreement initially curtailed violence across much of Syria, raising hopes that a lasting deal could be struck to end the five-year civil war.  
But surging fighting around Aleppo is threatening to topple the truce and reignite a war which has already killed more than 270,000 people.
Hijab called for international observers to be sent in and for ceasefire violators to be held to account.
He warned against wasting time, "because for Syrians the price of time is blood."
Hijab also slammed Assad's main ally Russia, charging that it was giving Damascus free rein to violate the ceasefire by providing them "with the weapons used in bombings and massacres."
At the same time he voiced disappointment with Washington, the opposition's main backer, charging that rebels on the ground had seen their access to arms dry up.  
"Maintaining the truce is not possible by preventing arms from reaching the rebels and preventing them from defending themselves, but by strengthening them and maintaining a balance of power," he said.