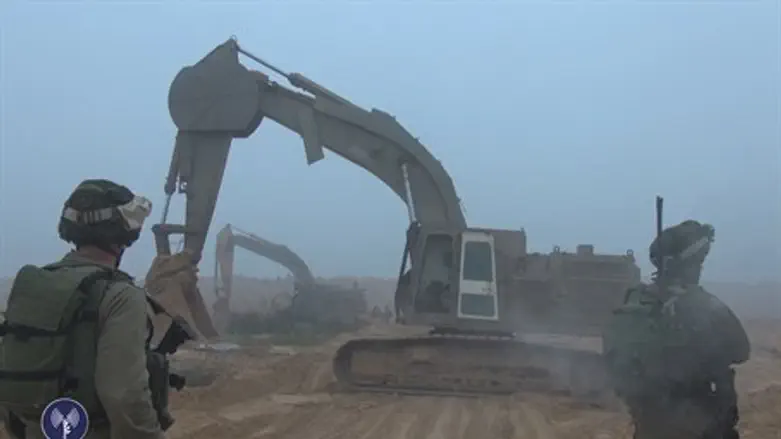 דחפורי צה"ל חושפים את המנהרה
צילום: דובר מה"ל
It has been cleared for publication that the IDF recently discovered a terror tunnel from Gaza into southern Israel, marking the first such discovery since 2014's Operation Protective Edge.
The tunnel was a particularly large and complex one; its route stretched along the eastern sector of Gaza all the way to southern Gaza, and crossed onto the Israeli side. At some points it reached as much as 30 meters in depth.
Watch - IDF uncovers first terror tunnel since 2014:
After being discovered, IDF forces quickly mobilized to secure and neutralize it - though precisely how is under a gag order, as is the tunnel's exact route.
A senior defense official told Arutz Sheva that the IDF's number one priority over the past year has been to locate such terror tunnels, which Hamas, Islamic Jihad and other terrorist groups in Gaza have been busily rebuilding since the 2014 war. Israel has repeatedly protested Hamas's use of international aid - particularly building materials - to rebuild its tunnel capabilities, while preventing the aid from reaching civilians in Gaza.
Palestinian media had been reporting intense IDF activity, including heavy digging equipment, along the border with Gaza for the past several days.
The military source added that Israeli operations against the tunnels were being aided by revolutionary advanced technology, though he did not elaborate.
"Today the State of Israel possesses capabilities which no other country in the world possesses," he stated. "The tunnel is a great one, so we have invested vastly in (tunnel) prevention and destruction capabilities."
The official explained that both locating and securing such tunnels is an extremely complex, demanding mission.
"Locating tunnels like this requires intelligence and advanced technological ability," he said, while actually securing and sealing or destroying it requires "the use of technology, engineering (capabilities) and operational work on the ground."
Responding to the discovery, the IDF emphasized that Israel is not interested in an escalation, but will operate wherever and whenever necessary to neutralize potential threats to the citizens of Israel.
Current IDF Chief of Staff Major General Gadi Eizenkot has made the establishment and expansion of a specialized unit to locate and destroy Gazan terror tunnels his number one priority, while terrorists in the Islamist-held coastal enclave have openly boasted of their intentions to rebuild attack tunnels into Israel.
The IDF said, however, that the entrances to the tunnel did not endanger any Jewish community in the area, and that at no point was there any threat to local residents.
כלי הנדסיים חושפים את המנהרה
credit: דובר צה"ל
פנים המנהרה
credit: דובר צה"ל
אלוף אייל זמיר, מפקד פיקוד הדרום
credit: דובר צה"ל
הרמטכ"ל במקום המנהרה שנחשפה
credit: דובר צה"ל