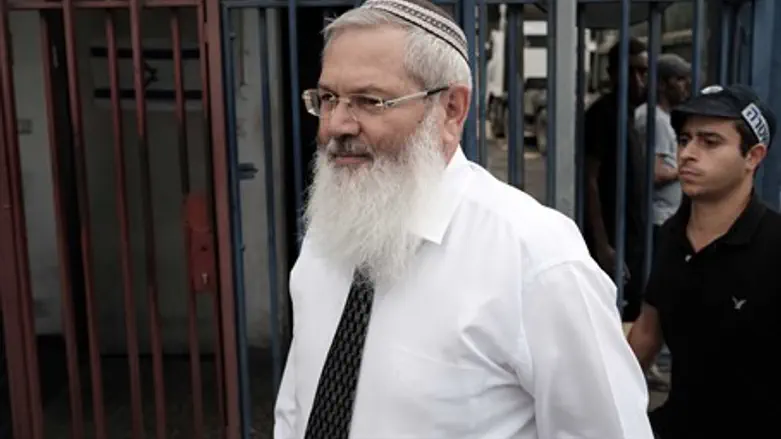 Rabbi Eli Ben-Dahan
Tomer Neuberg/Flash 90
Judea-Samaria may be the next area destined for full Israeli sovereignty, Deputy Defense Minister MK Rabbi Eli Ben-Dahan stated Sunday, after Prime Minister Binyamin Netanyahu's historic Cabinet meeting in the Golan. 
Earlier Sunday, Netanyahu declared that the Golan Heights will never be given to Syria in any future diplomatic or political agreement. In light of this, Ben-Dahan hopes Judea and Samaria is next. 
"I went to the Golan Heights in '77 and lived there for six years," Ben-Dahan stated in a special interview with Arutz Sheva. "I was among the founders of the great community of Hispin."
"When we got there we were just 11 families, and today there are more than 300 families - a flourishing community which is the center of Torah and religious education in the Golan Heights," he continued. "This is a personal joy for me."
"We are also celebrating 35 years of the application of Israeli law to the Golan Heights," he noted, describing his own joy at seeing the area become a formal part of Israel. 
Ben-Dahan also reflected on the political implications of Netanyahu's statements. 
"Only a few years ago, there were those who said the only plan was to give Assad - father or son - the Golan Heights, to provide a certain amount of crude oil, there would be peace and we will be happy," he noted. "Today everyone understands what a grave mistake we would make if we give away the Golan; ISIS and all the radical Islamist organizations are in power (in southern Syria), and not Assad." 
"In the end, the Prime Minister's statement is a binding declaration that has impact," he noted, including on the international level. 
"When, in all the world - and certainly in the Middle East - there is unrest, and when [leftist] organizations are trying to harm Israel - there is a country which is an island of stability in a thriving democracy, and declares that the Golan Heights is an integral part of Israel."
"I hope it is also a preliminary step to guide public opinion toward the application of Israeli law to Judea and Samaria," he added. "This is the next logical step, especially in light of the reality that we find ourselves in, and I hope it will happen in the near future."