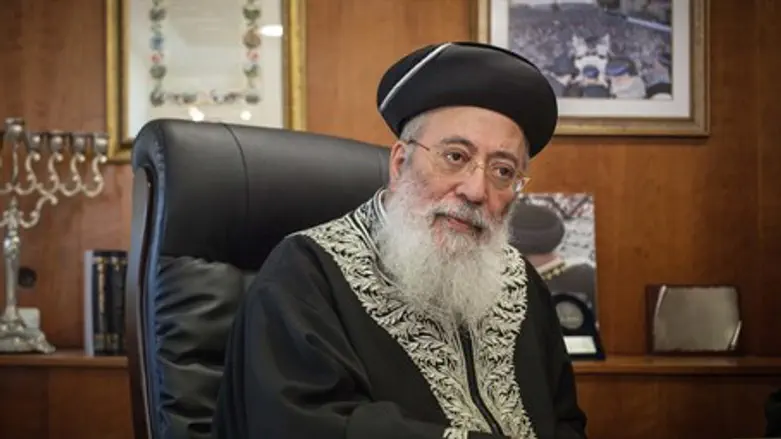 Rabbi Shlomo Amar
Flash 90
Sephardic Chief Rabbi of Jerusalem, Rabbi Shlomo Amar, on Thursday harshly condemned the radical Women of the Wall (WoW) group, over its plans to hold a female priestly blessing at the Kotel (Western Wall) in a provocative and public breach of tradition.
"In a civilized country they would need to put them (WoW) in a hospital for mental patients until they healed, this is complete insanity," said Rabbi Amar, who in the past served as Sephardic Chief Rabbi of Israel.
Speaking in his weekly Torah lesson, the rabbi continued by noting on the criticism leveled against Judaism's opposition to assimilation, saying, "to say that a Jew shouldn't go out with an Arab woman is called racism? These crazies, they lost their minds completely."
Expressing shock that the government, which includes religious and haredi parties, still hasn't put an end to the plan to build another Reform prayer space at the Kotel, he said, "I'm surprised that they still haven't cancelled this evil edict on the Kotel."
"Now they told me that several foolish women are publishing that they are doing the priestly blessing, what a disgrace, it is a shame that they aren't even embarrassed, what do they want? They regret being born women? They don't know that a woman is a princess."
The rabbi accused WoW of belittling women, saying, "they're thinking to honor women? They are belittling all women. They're embarrassed of being born women? For us women are respected. Let them search in all of world literature, is there a passage like 'a woman of valor' (eshet chayil)? They won't find anything similar or even close. So they say we are belittling (women)? Fools."
"They want to do the priestly blessing with tefilin (phylacteries). Do the mitzvah that God gave you and thank God that you are women and that your reward is great. Those who thought with their faulty minds to honor women, they belittle them and everyone is silent in our great transgression."
Sharpening his tone, he said, "why don't they cry out bitterly about this? This is (like) bringing an idol into the Temple. May Heaven have mercy, the heart is torn and broken, this is a desecration of God's name, will we not be zealous for the honor of God's name? They're quiet and letting things pass."
"This insanity enters, they don't see that its really satan incarnate? And we are silent on these things."
WoW has a long history of sparking provocations at the Kotel. Just last month they broke their promise to the attorney general, according to which they agreed to stop smuggling in Torah scrolls to the women's section of the Kotel in light of the controversial new Reform prayer space being built.
Regarding the group's goals, back in July 2013 WoW head Anat Hoffman wrote an article on the Religious Action Center for Reform Judaism website entitled "support our rally to end the chief rabbinate," in which she called "to throw out the whole rabbinate."