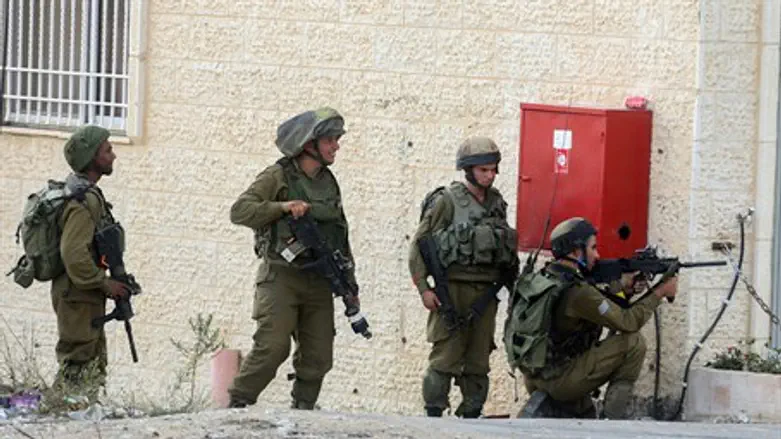 IDF soldiers operate near Ramallah Ffile)
STR/Flash 90
Israeli forces raided a money changer in Ramallah early on Thursday, blowing up a safe and sparking a fire, which led to minor clashes, the army and witnesses said.
An Israeli army spokeswoman said the pre-dawn raid was to "confiscate terror funds" held in the shop.
She said the money changer "failed to comply with the army instructions to open the safe," and so "the soldiers proceeded to a controlled detonation of the safe."
The resulting fire spread to the nearby vegetable market before being extinguished, witnesses said.
Following the explosion, there were minor clashes between Israeli soldiers and Arab rioters near al-Manara Square in central Ramallah.
There were no reports of injuries.
One witness said the forces arrived with the owner of the store, whom he identified as Ghazi al-Ajouli.  
"They went in and took the money. After taking the money they went out and detonated the store and then a fire started," the man who gave his name as Mohammed told AFP.
A spokesman for Palestinian Authority prime minister Rami Hamdallah's office condemned what he said was Israel's violation of the Oslo agreements by raiding Ramallah, which is part of Area A - under full PA control.
IDF forces last month also raided the Ramallah offices of a PA television station, accusing it of incitement.
"(Israel) continues its incursions into Palestinian areas, affecting the population, including putting them in danger," Jamal Dajani told AFP.
The PA, however, routinely breaches the Oslo Accords, among other things via rampant illegal building in Area C (which is under full Israeli control); taking unilateral steps against Israel in international fora, and continued terrorism and incitement.
PA leader Mahmoud Abbas himself has declared the Oslo Accords void as far as the Palestinians are concerned - yet still apparently expects Israel to abide by them.