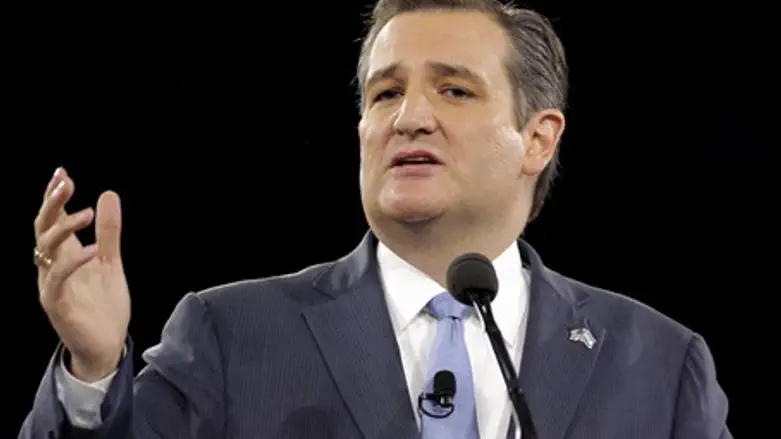 Ted Cruz at 2016 AIPAC Policy Conference
Reuters
A poll carried out by the Ruderman Family Foundation has found that only 6% of Israelis see Ted Cruz as the most pro-Israel candidate in the 2016 presidential race.
About 33% of Israelis see Trump as the most pro-Israel candidate, while 31% see Hillary Clinton that way, 5% think Bernie Sanders is the most pro-Israel candidate and 24% said they do not know.
The results appear to indicate a degree of unfamiliarity with the candidates' positions on Israel, since most experts would probably name Cruz as the most pro-Israel candidate.
The poll, which was carried out by the Dialogue Institute on March 27, examined issues connected to the relationship between Israel and the Jewish American community. The Ruderman Family Foundation, which sees importance in teaching senior Israeli leaders about the US Jewish community, is currently hosting a delegation of six MKs in the US. They are meeting Jewish leaders, heads of religious streams, philanthropists, Jewish students, congressmen and other elected officials, to learn about the issues that concern US Jews and strengthen ties between them and Israel.
About 60% of Israelis said that Prime Minister Binyamin Netanyahu should denounce recent statements by MKs against the Reform Jewish stream, and take action to ensure they are not repeated.
The poll found that 53% of Israelis think MKs should take US Jews into consideration when dealing with legislation that affects them, and 86% think that MKs should have a deep acquaintance and connection with US Jewry.
According to Jay Ruderman, President of the Ruderman Family Foundation, "The Israeli public has great interest in the results of the presidential race in the US, since it knows that the US is Israel's biggest and most important ally in the world. It also realizes that US Jewry has a crucial role in ensuring American support and protection of Israel."
The Knesset delegation currently hosted by the Foundation is made up of MKs Omer Barlev and Michal Biran (Labor), Yoav Kisch and Avraham Nagosa (Likud), Yifat Shasha-Biton (Kulanu) and Aliza Lavie (Yesh Atid).