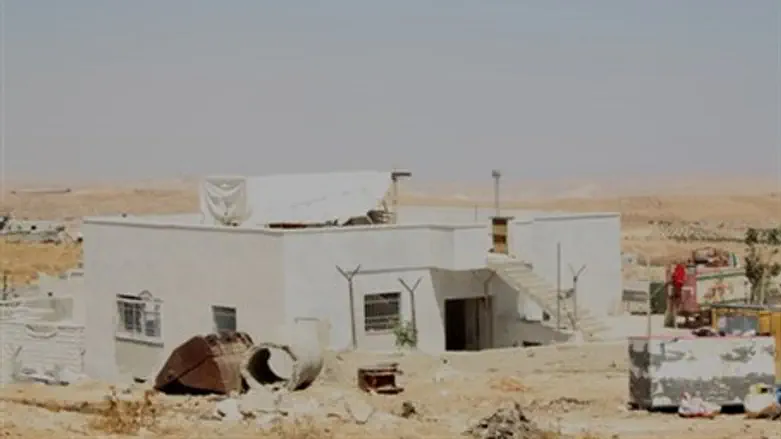 An illegal Arab house
Regavim :Oved Arad
On Tuesday the city of Jerusalem, supported by the Israeli police, were about to demolish an illegal Arab home built in the middle of a national park, when a call from the office of Prime Minister Binyamin Netanyahu ordered police to stand down.
The building in question, occupied by the Tutunji family, was constructed in 1992 on land designated as a national park some 18 years beforehand. The park borders the Wadi Joz neighborhood in eastern Jerusalem.
Due to the building's location and lack of permits, demolition orders were issued. On Tuesday morning it appeared that after 24 years, the law was finally going to catch up with the illegal home.
A government official claimed the decision was necessary to lower tensions, Yediot Ahronot reported.
"These days, everyone needs to make calculated decisions in order not to enflame the region."
Aref Tutunji, who claims ownership of the illegal structure, said he was appreciative of the decision, and noted the various other benefits the state had afforded him
"I was hospitalized for a year in an Israeli hospital and the state pays for my children's education. I won't argue with police officers if they come over to demolish, but I ask one thing from the state: I just want my home."
While the Prime Minister's Office claims the demolition orders were merely deferred temporarily, no new date has been given for the building's destruction.
Despite the Prime Minister's intervention on behalf of the Tutunji family, another demolition was carried out early Wednesday morning – in the Jewish town of Beit El.
At around 3 a.m. Civil Administration enforcement units, supported by Israeli police, arrived at the home of Inbal and Uri Aloni. Within minutes the house was destroyed, leaving the couple – who are expecting their first child – homeless ahead of the Pesach holiday.
Nor did the Prime Minister's Office intervene on behalf of a Carmei Tzur synagogue, which had been desecrated by Arab arsons in February.
While the Prime Minister harshly condemned the arson attack, pledging to catch those responsible, no action was taken to halt or delay the demolition of the synagogue less than two months later.
The synagogue was built in memory of three murdered Israeli youths, who had been abducted and killed by Hamas terrorists not far from where the synagogue stood.