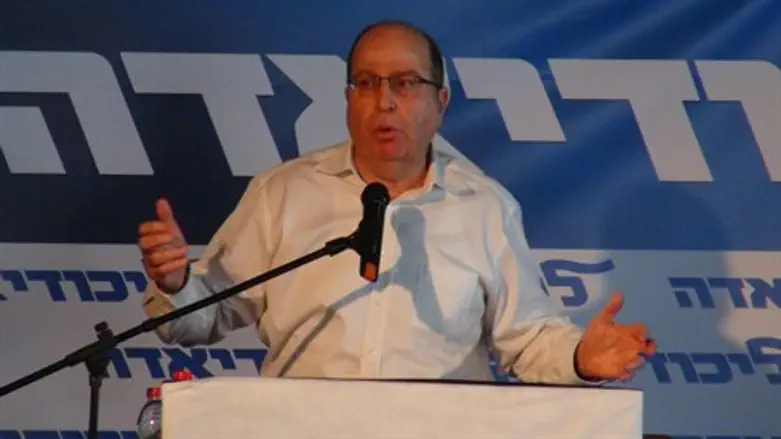 Moshe Ya'alon at Likudiada
Hezki Ezra
21 former Israeli ministers, including Dan Meridor, Ophir Pines-Paz, Avraham Shohat, Shaul Yahalom, Effi Eitam, Yossi Beilin and Meir Sheetrit on Monday evening issued a statement in support of Defense Minister Moshe Ya'alon and his opposition to the shooting of neutralized terrorists.
Ya'alon has been outspoken in his criticism of the soldier who recently shot a neutralized terrorist in Hevron, condemning the shooting just hours after the incident occurred. Last week Ya'alon said the soldier had "transgressed" and "was not a hero". He further accused supporters of the soldier of undermining the army's moral standing.
His comments have resulted in criticism and even in threats against him, which Justice Minister Ayelet Shaked (Jewish Home) denounced on Saturday.
The former ministers who expressed support for Ya'alon are part of a forum which gathers as part of the Israel Democracy Institute (IDI) and which includes former Israeli politicians from across the political spectrum.
The released statement says, "The members of the forum condemn the incitement against Defense Minister Moshe (Bogie) Ya'alon in light of his position on the killing of the Palestinian terrorist in Hevron. The forum is speaking out against the delegitimization of the defense minister, because of his insistence on the ethics of fighting on the IDF."
The former ministers added, "The norm according to which you do not shoot a neutralized enemy which no longer constitutes a threat has always reflected the law of Israel, and is an expression of universal and Jewish moral values. We must ensure to hold the norm and condemn those who go against it."