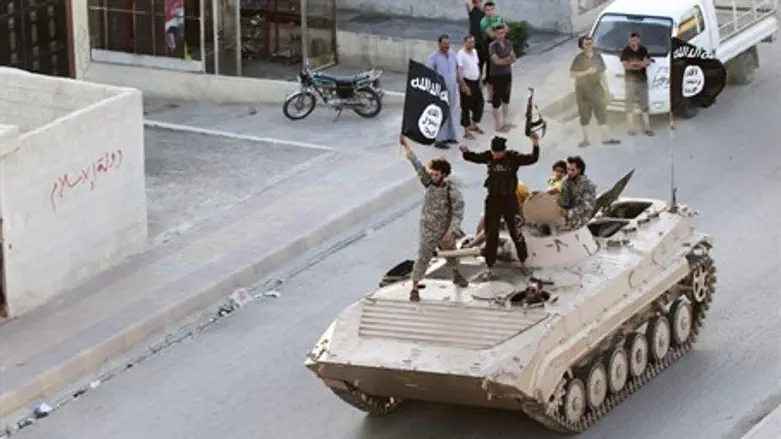 ISIS terrorists in Syria (file)
Reuters
Syria's Al Qaeda affiliate and allied rebels pushed offensives around northern, central and coastal Syria on Monday, triggering a spike in violence that could threaten a truce ahead of peace talks, a monitoring group said.
The Islamic State (IS or ISIS) group also took back control of the town of Al-Rai near Turkey, which rival rebels had captured last week, the Syrian Observatory for Human Rights said.
Neither the Al-Qaeda-affiliated Al-Nusra Front nor ISIS are included in a truce brokered by the United States and Russia that came into force on February 27.  
But the fact that rebels are fighting alongside Al-Nusra in such a broad offensive, while regime forces push back, has sparked concerns over the durability of the shaky truce.
"Al-Nusra and allied rebel groups are waging three synchronized offensives" on front lines in Aleppo, Hama and Latakia provinces, Observatory director Rami Abdel Rahman told AFP.
So far, they have seized a hilltop in Latakia province, the heartland of President Bashar al-Assad's Alawite sect, the group said.
"This is the offensive that Al-Nusra warned it would carry out several weeks ago," Abdel Rahman said.
He was referring to a threat issued by the jihadist group when President Vladimir Putin, a key backer of Assad's regime, announced the partial pullout of Russian troops from Syria last month.
A military source confirmed that an offensive was under way.
"Armed groups are trying to attack some military positions in Latakia and Hama provinces, but they have not succeeded in making any advances," the source told AFP on condition of anonymity.
Further north, rival jihadist group ISIS took back the town of Al-Rai, their key supply route from neighboring Turkey, the Observatory said.  
Rebels fighting ISIS had taken Al-Rai last week following two days of clashes.
"The fact that the rebels could not hold on to Al-Rai shows that it is impossible to maintain an advance against IS without adequate air cover," Abdel Rahman said.
Syrian, Russian and US-led coalition warplanes are all staging separate air campaigns in the war-torn country.
The latest violence came ahead of a new round of peace talks in Geneva on April 13, which will see indirect negotiations between government and opposition delegations.  
"Neither Al-Nusra nor IS have an interest in the ceasefire or a peaceful solution to Syria's war - because should the war end, they would no longer have a role," Abdel Rahman said.
Syria's conflict erupted in March 2011 with anti-government protests but has since evolved into a multi-front war drawing in regional powers.
AFP contributed to this report.