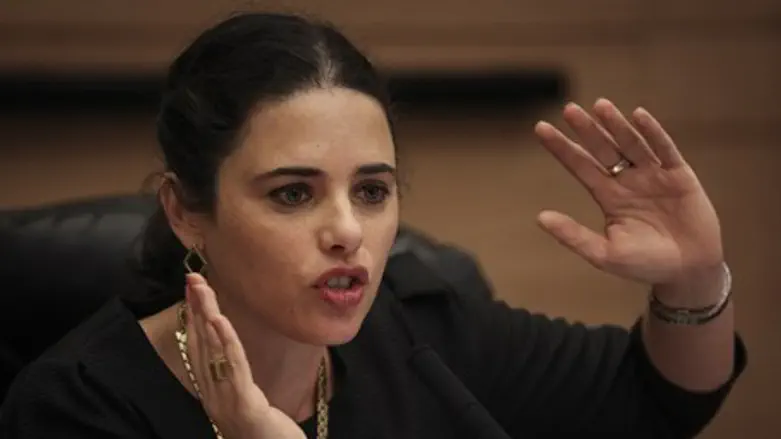 Ayelet Shaked
Flash 90
Justice Minister Ayelet Shaked (Jewish Home) is denouncing the threats made against Defense Minister Moshe Ya'alon (Likud), though she claims they came from Ya'alon's own party.
"I understand that those who are publishing the incitement come from the Likud. They should put things in order," she told Channel 2.
Ya'alon was threatened for condemning the soldier who shot a neutralized terrorist in Hevron. By contrast, Shaked has expressed her support for the soldier and emphasized the need for a full investigation before jumping to conclusions.
"We didn't say anything during the first 24 hours after the incident," she said, explaining that the party wanted to allow the IDF to investigate what happened. "Immediately after that the left began a court martial against the soldier, so we had to respond."
However, she noted that her own party also suffers from disorder, particularly regarding MK Bezalel Smotrich's recent comments. "I distance myself from his remarks, as someone who has spent time in hospitals and knows that there is actually strong coexistence there. This was an outrageous remark that ignores reality. It would have been better if he hadn't said it."
The minister also discussed potential plans to expand the government coalition by including the Zionist Union. "I am not opposed to a unity government. I would agree to is as long as the government's other fundamental stances do not change."