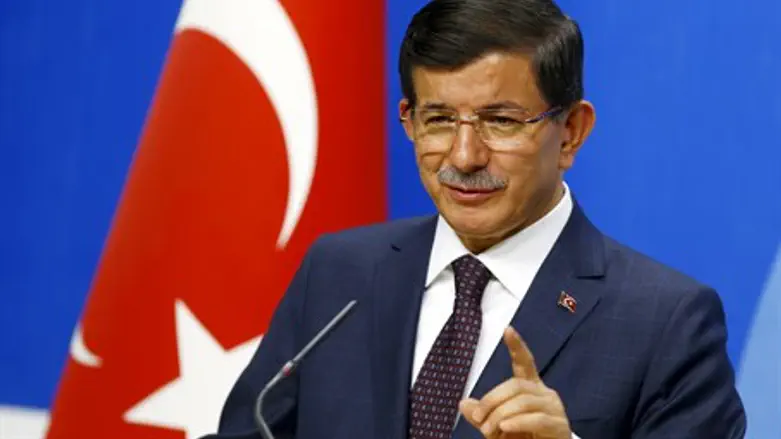 Turkey's Prime Minister Ahmet Davutoglu
Reuters
The Turkish Foreign Ministry on Friday morning announced that significant progress was made during rapprochement talks with Israel on Thursday, and claimed that a final normalization agreement will be reached in the next meeting.
That statement comes despite the fact that diplomatic officials told Arutz Sheva that no significant progress was made in the meeting.
According to the Turks, the latest round of talks between the negotiating teams of both sides was held in London on Thursday, and the sides moved closer to reaching an agreement.
That agreement will be completed and signed in the next meeting of the negotiating teams which will take place "very soon," according to the Turkish Foreign Ministry.
The announcement added that in the talks on Thursday those taking part included Turkish Foreign Ministry Under Secretary Feridun Sinirlioglu, Prime Minister Binyamin Netanyahu's delegate Joseph Ciechanover, and National Security Council chair Jacob Nagel.
Turkey's glowing prospects of an imminent deal come despite the statements of senior sources in the Israeli security establishment, who on Thursday were quoted by Walla as saying Ankara is playing a "double game," and is "using" Israel so as to pressure Russia into being less belligerent.
"There isn't really anyone to talk with in Turkey. At this point they're using us to pressure the Russians," the sources said, noting on Turkish interest in securing natural gas from Israel following Russian sanctions, which came after Turkey shot down a Russian jet last November.
According to the security sources, the Turkish authorities have yet to close the Hamas terror headquarters in Istanbul, and according to reports the country continues to purchase oil from Islamic State (ISIS) despite global criticism, and therefore they estimated the talks are destined to fail.
Bilateral ties fell apart in 2010 due to the infamous Mavi Marmara flotilla incident, in which Turkish activists sought to breach Israel's legal naval blockade on Gaza. The main ship, which was found to be carrying no humanitarian aid, refused repeated orders to turn around and eventually forced the IDF to board it.
Once on board the commandos were attacked with lethal force by the Turkish Islamists who wounded them with knives and metal bars, and the soldiers were forced to open fire, killing ten.
Turkey cut off ties with Israel when it refused to apologize for the incident and pay compensation to the families of those who were killed on the ship. Netanyahu has since apologized to Turkish President Recep Tayyip Erdogan under pressure from US President Barack Obama.