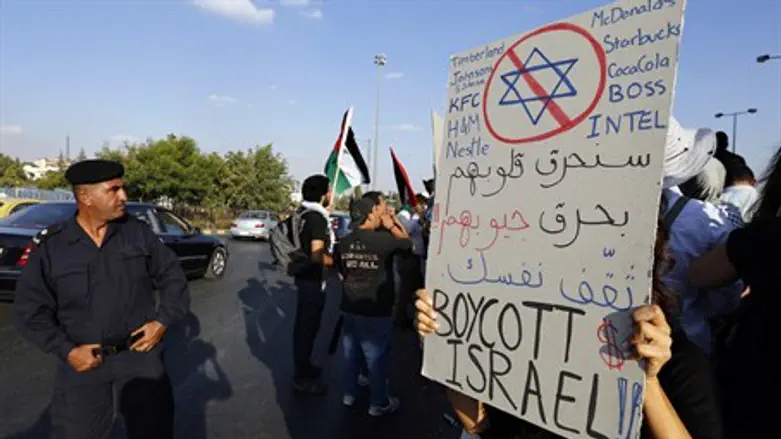 BDS supporters (illustration)
Reuters
The Anti-Defamation League (ADL) is taking action in the wake of a heated anti-Semitic student meeting at Stanford University, after an Associated Students of Stanford University discussion debated whether "Jews control the banks and the media" is a "valid" claim.  
"ADL is consulting with students, faculty and other partners on campus who are directly impacted towards taking a number of actions," Seth Brysk, ADL's Central Pacific Region Director, stated to Arutz Sheva Thursday night.
"These include but are not limited to speaking out, publicly and privately, as well as planning to deliver ADL trainings like Words to Action, which empowers students to confront anti-Semitism on campus."
"ADL presented a training at Stanford Hillel last year which was widely praised by Jewish and non-Jewish students for its thoughtful and honest approach in confronting anti-Semitism," he added. Despite this, earlier Thursday, Stanford Hillel declined to condemn the incident and the legitimization of anti-Semitism on campus. 
Validating anti-Jewish stereotypes
During a hearing on renewing a resolution banning anti-Semitism Tuesday, Stanford senior Gabriel Knight insisted that a clause which defines negative Jewish stereotypes is "irresponsibly foraying into another politically contentious conversation."
"Questioning these potential power dynamics, I think, is not anti-Semitism," he said. "I think it's a very valid discussion." He also maintained that the bill should include "some language to acknowledge Palestinians' rights to self-determination." 
Knight's statement was then followed by a group of pro-Boycott, Divestment, and Sanctions (BDS) students from the Students of Color Coalition (SOCC) moving to redefine "anti-Semitism" as excluding delegitimization of Israel and Zionism, as well as a lengthy debate over whether "Jewish power" intersected with "white power."
Later, some students also claimed that - as written in the original resolution - the Anti-Defamation League (ADL) is not a suitable organization to educate the board about anti-Semitism.
Brysk defended the ADL's reputation Thursday night. 
"ADL is the world's leading organization fighting anti-Semitism through programs and services that counteract hatred, prejudice and bigotry," he affirmed. "Our work has been widely praised and positively received at a number of universities as well as in other settings."