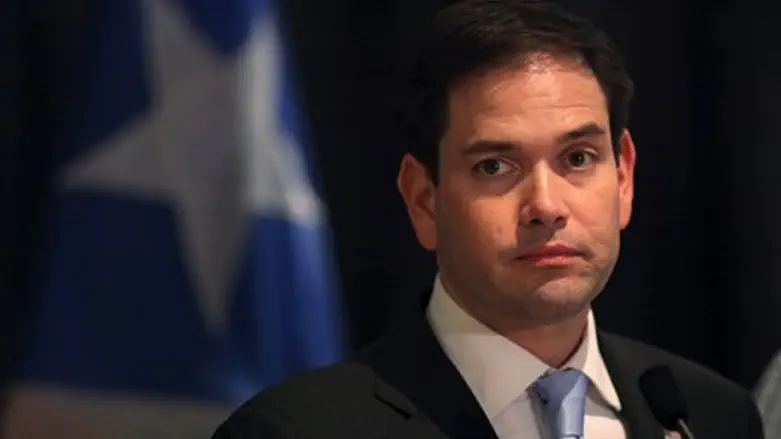 Marco Rubio
Reuters
Two Republican senators opposed to the Iran nuclear deal are trying to block an Obama administration proposal that would ease rules on using U.S. dollars in trade transactions with Iran, The Associated Press reported Wednesday.
Marco Rubio of Florida and Mark Kirk of Illinois introduced legislation that would bar the Treasury from permitting foreign banks to conduct foreign currency trades in U.S. dollars for transactions involving Iran.
The move comes after officials said last week that the Obama administration is considering easing financial restrictions that prohibit American dollars from being used in transactions with Iran, sparking anger among lawmakers opposed to the nuclear deal with Iran.
Administration officials have denied they are considering giving Iran direct access to dollars or to the U.S. financial system as part nuclear sanctions relief, but have left open the possibility of easing some rules on the indirect use of dollars for transactions with Iran as long as they did not involve American or Iranian banks, according to AP.
Rubio and Kirk's bill, seen by the news agency, would expressly forbid Treasury from issuing any license that would allow anyone "to conduct an offshore United States dollar clearing system for transactions involving the government of Iran or an Iranian person" or "provide United States dollars for any offshore United States dollar clearing system conducted or overseen by a foreign government or a foreign financial institution for transactions involving the government of Iran or an Iranian person."
Many lawmakers have expressed concern that the proposal to allow Iran access to American dollars would give Iran more than it deserves and open the door to Iranian access to the U.S. financial system, which is currently barred by law.
News of the possible financial relief for Iran came as the Islamic Republic continues to violate UN resolutions by carrying out ballistic missile tests. Last week, in fact, the United States and its European allies demanded that the UN Security Council take action over Iran's repeated ballistic missile tests, which they noted defied a United Nations Security Council resolution that endorsed last year's nuclear deal.
In January, the United States imposed sanctions on Iranian companies and individuals in response to the October missile tests. Last week it named units from Iran's Islamic Revolutionary Guard Corps (IRGC) involved in the country's ballistic missile program to its sanctions blacklist.
But Iran has remained defiant and continues to insist that it will continue to develop its ballistic missile program despite the sanctions.