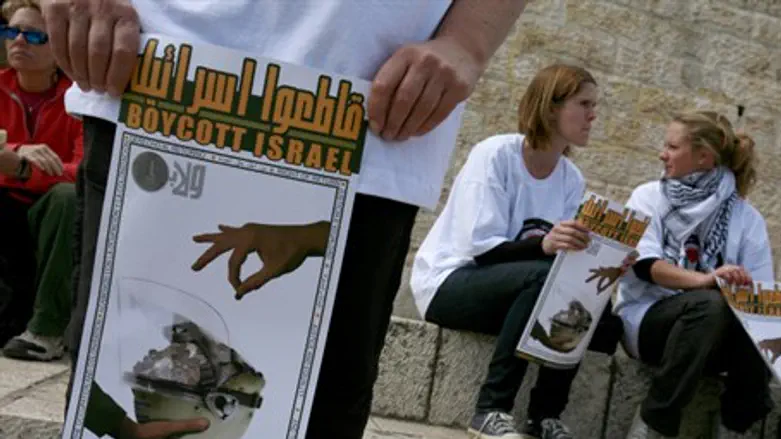 European activists calling to boycott Israel (illustration)
Flash 90
In response to the UK decision to halt funding for the anti-Israeli "charity" organization War on Want, NGO Monitor has called on the European Union to follow suit and pull funding for the group.
"This is an important, albeit belated, step by the British government," said NGO Monitor President Prof. Gerald Steinberg on Sunday.
"Other institutional donors, in particular the European Union, should follow suit and immediately end their funding for this anti-human right organization," he added.
According to research conducted by NGO Monitor, the British government gave War on Want nearly 500,000 pounds (over $700,000) between the years of 2012 and 2015, while the EU gave another 211,000 pounds (over $300,000).
War on Want was originally established to fight global poverty, but it was recently exposed as having been hijacked by anti-Israel activist to emerge as a leading backer of the BDS boycott movement, leading to a major inquiry into the ex-charity's operations. It has regularly accused Israel of "war crimes," "ethnic cleansing," and "apartheid."
"Governments should not be funding hate, nor should they support NGOs that contradict and undermine their policy goals," added Steinberg. "Unfortunately, the British government has other NGO problems to address."
NGO Monitor noted that aside from War on Want, the UK funds Irish Catholic aid organization Trocaire, which campaigns to sanction Israel and is a partner of the Palestinian NGOs BADIL and Palestinian Center for Human Rights (PCHR). Both of them accuse Israel of "ethnic cleansing" and "apartheid."
The British government also funds the Norwegian Refugee Council (NRC), which promotes "lawfare" campaigns targeting the Jewish state.